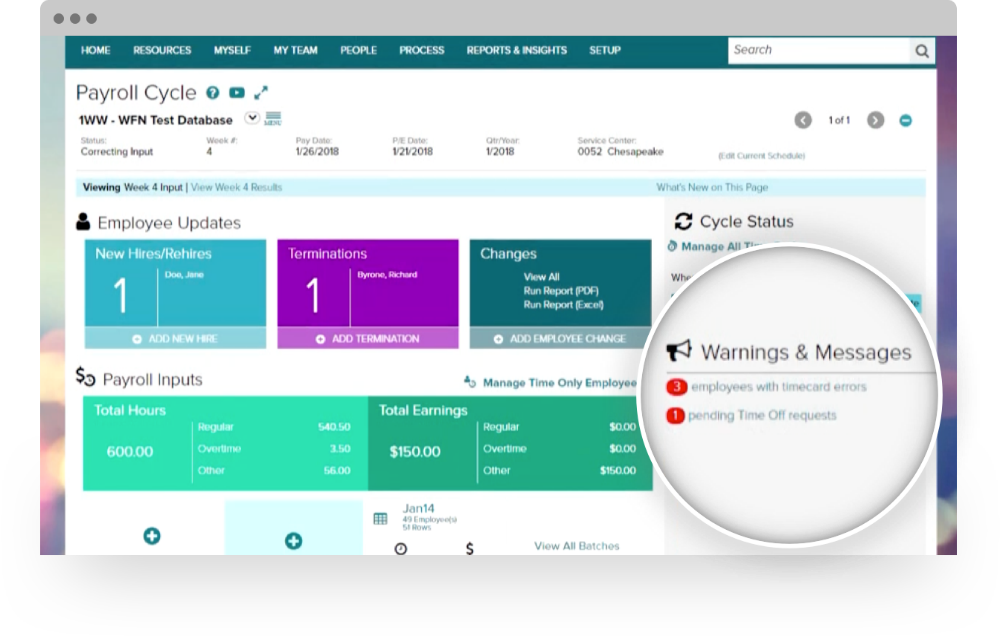 The main benefits of ADP Vantage HCM are centralizing all HR-related processes, empowering you to make smarter talent sourcing decisions and simplifying tax administration and payroll. Here are the details:
The system unites the functions of HCM analytics, payroll, and benefits administration in one platform. It can also be used to schedule tasks, manage talent income, and monitor time and attendance. Companies can also make better business decisions, as the ADP Vantage HCM dashboard displays information in real time, making it easy to process data, create charts and diagrams that are easy to understand and come up with required reports. Processes for Form I-9/E-Verify, as well as federal and state tax withholding forms, can also be automated by ADP Vantage HCM.
Hiring teams that use ADP Vantage HCM gain visibility into their top candidates and can even use the system to spread personalized brand stories. The recruitment package even works with passive candidates, as it engages them, improves their experience, and maintains transparent communication. Tasks can easily be scheduled and performances aligned with company goals once the employees are in the system.
Both tax administration and payroll management are made easier as ADP Vantage HCM allows for paper, electronic, or debit card payments. Users have unlimited access to payroll statements, whether they are using a desktop or mobile device. The system also takes into consideration all the benefits an employee will get as it is an ACA compliant system.
Best of all, ADP Vantage HCM is reasonably priced and well-integrated. Companies still unsure about purchasing it can use the demo version, while quote-based packages are available for companies who need to have specific needs met. Any issues encountered can be addressed by online and phone support.