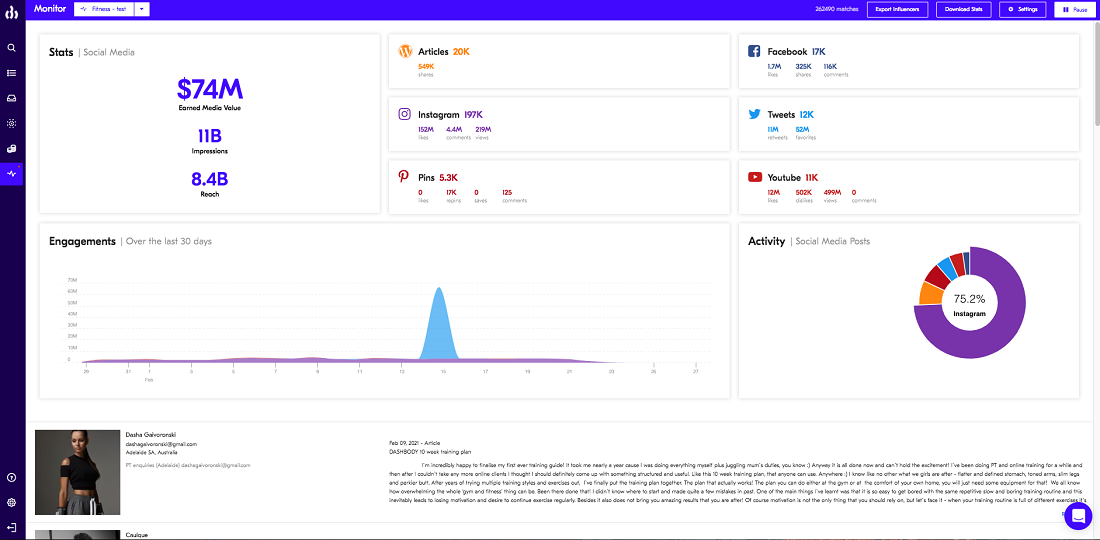 The main benefits of Upfluence are its vast database, accurate search results, relevant information about influencers, and easy-to-use interface. Here are more details:
Extensive database
Upfluence is equipped with a vast database containing plenty of opportunity for the users' brands to take advantage of. It has proprietary algorithm indexes with millions of content across different social media platforms. All network members, however, are screened while keeping important factors in mind such as identity validation, engagement, and reach. This means that only genuine and high-quality influencers are tapped.
Optimized searches
Users can utilize as many keywords as they like in order to effectively filter their search results. By using multiple criteria such as social platform, the number of followers, location, and topics covered simultaneously, brands will accurately find the right influencers to work with. Users can also dig deeper by searching through individual posts of the network members.
Real-time information about influencers
Upfluence also provides users with profile bios of the influencers with detailed information such as engagement rates. It's also equipped with powerful tools that could accurately calculate and show an influencer's real-time followers for every platform, their latest social media entry and relevancy, and influence scores. All data from the system can also be exported and used offline.
Intuitive interface
The system sports a user-friendly interface that is carefully laid out to make it easy to navigate around. The graphs and charts on the display are updated in real time.