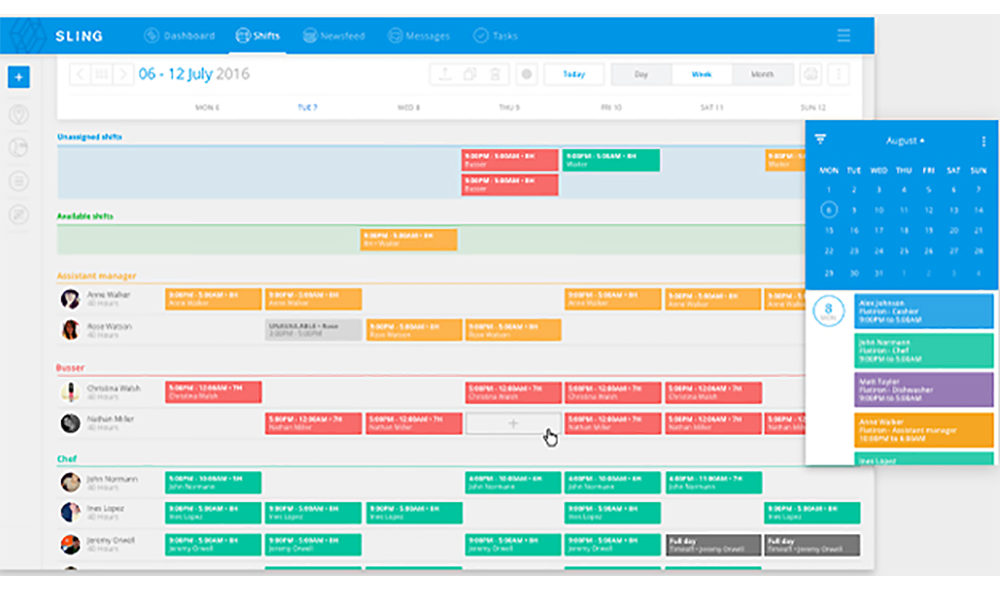 The main benefits of Sling are creating accurate schedules, reducing operational costs, and monitoring employees with ease. Here are more details:
Create accurate schedules
Sling is designed with a goal to change the way you create and implement employee schedule. The solution allows you to create accurate schedules that are free of any conflict. The schedules are professionally designed to eliminate any chance of double-booking or overlapping shifts. Sling ensures that, as you create the schedules, all employee slots are covered. Viewing employee availability or their time-off requests is a breeze. The best part is that the schedules leave room for flexibility, hence changes can be implemented with ease.
Reduce operational costs
In addition, Sling provides tools to monitor all the labor-related costs. The solution allows you to estimate and optimize your spending on labor. It keeps all labor-centric expenses in check and ensures the percentage of labor is proportionate with the targeted sales. As a result, overspending is limited, and your business is enabled not to operate beyond your budget.
Monitor employees with ease
Better still, with Sling there is no more guesswork when it comes to computing employees' work hours. The solution enables employees to clock in and out of every shift from their mobile devices. This prevents employees from clocking out late and allows you to get the best out of every employee. Accurate employee hours translate to accurate payrolls.