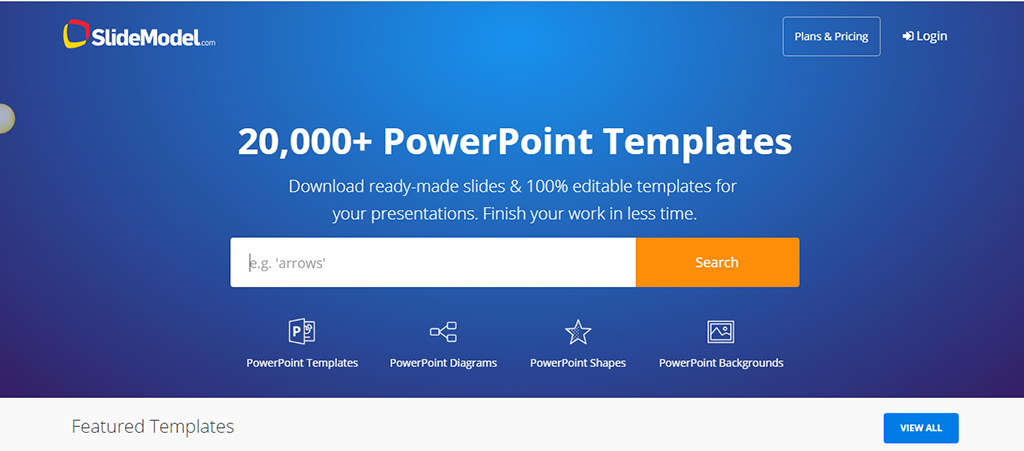 SlideModel makes preparing Powerpoint presentations easier. With its templates and visual elements, you can quickly create a beautiful presentation even without design skills. For an overview, here are some of its main benefits:
Streamline preparing presentations
After going through SlideModel reviews on the web, we found that users opted for this product as it speeds up and simplifies their creation of presentations. Regardless of design skills, you can choose easily a template and edit it to your requirements. This product helps you save time and engage your audience with stunning presentations.
Numerous templates to choose from
SlideModel has a broad range of categories you can choose from to match what you're looking for. The templates can be used on any tool such as Microsoft PowerPoint, KeyNote, Apache OpenOffice, and Google Slides. If you're looking for more options, SlideModel's template library is constantly growing and expanding with new templates.
Engage the audience with visual elements
SlideModel gives you a complete solution to leverage your visualizations. Users can add various elements, one recurring positive comment in SlideModel reviews across the web. For instance, you can choose a template with diagrams or add diagrams to your template like circular, process flow, segmented, tree, arrow, staged, flowchart and funnel diagrams. You can also place maps, charts, tables, and shapes.