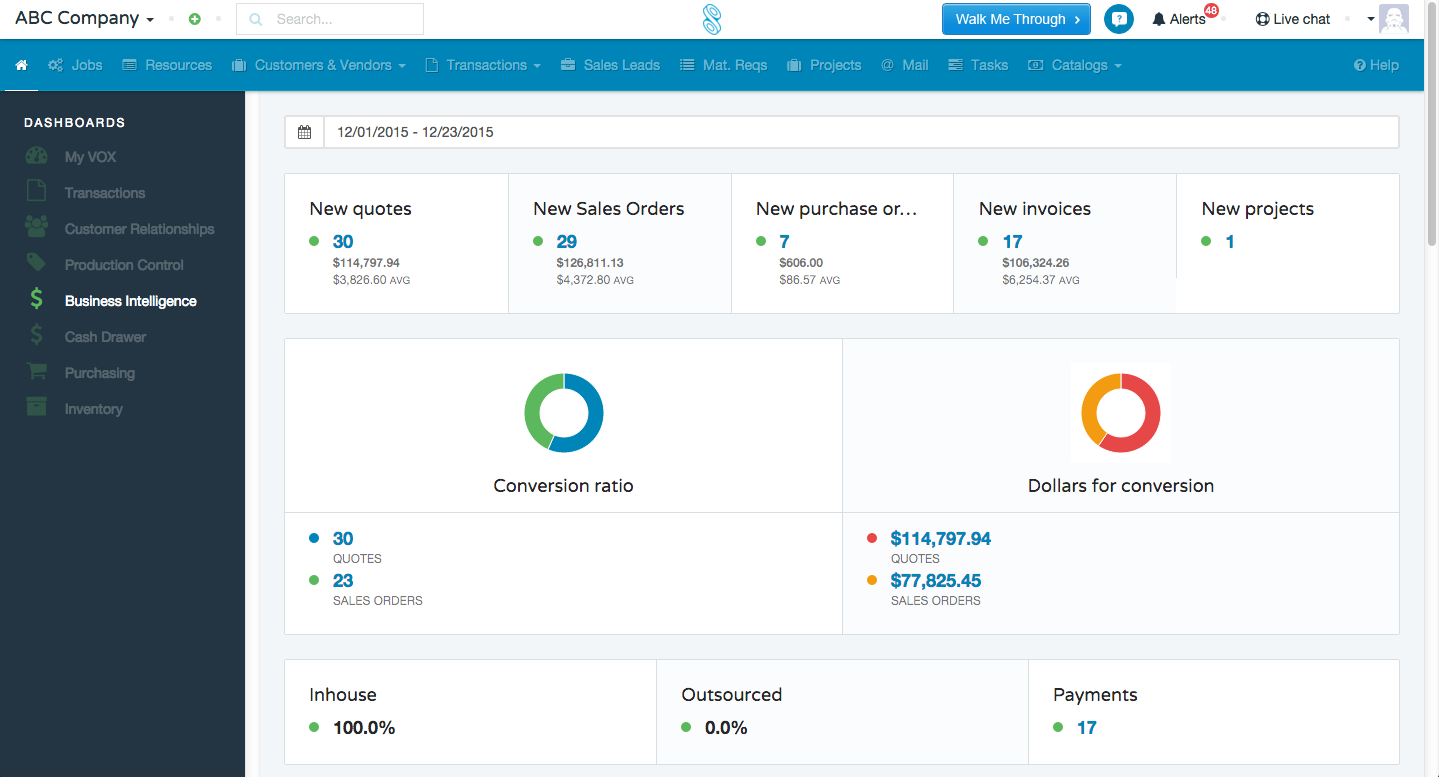 The main benefits of ShopVOX are its streamlined workflow, comprehensive feature set, 360-degree collaboration, and value for money. Here are more details of its benefits:
ShopVOX allows you to streamline your workflow for your manufacturing and fabrication business. It is a comprehensive suite that makes managing projects and jobs easier for users. There is a job ticket creation function where job details can be entered and never be lost again. With such, your team will be afforded a centralized dashboard ensuring that all team members are on the same page. Important information can be used as input in the Work Order module. In there, users will be able to enter production, shipping, and design data among others.
Another nice thing with ShopVOX is that it allows 360-degree collaboration with team members and customers. The client themselves can be given access to the system allowing them to approve designs or any other kind of proposals online. This online proofing system enables designers to send layouts and files directly to relevant parties for perusal. Furthermore, when proposals are approved or changed, the system can automatically notify relevant parties.
Brainstorming is also an activity that can be augmented by the powerful features and computation capacity of ShipVOX. Users can upload survey photos and annotate them with others. They can add notes, design ideas, and even installation guides. With such capability, important information and creative insights will be stored in one secure system that is always ready for future reference.
ShopVOX does not only connect your team together and your clients or prospects. It also includes a vendor management feature where users can directly request materials needed for their work orders in the application. Vendor profiles can be managed as details like prices and notes can be put in. Vendors can also be ranked according to preferences or parameters of your choice. With this, the information will be organized and action-ready.
Moreover, the application includes a task management module. Through this, administrators can assign tasks to members. Roles can also be assigned and used as the basis for task distribution as well. One can also make employee profiles and enter important accounts such as their responsibilities and deadlines; plus all relevant files according to their roles will be made available in their individual dashboards. This means that when one, let's say, is a salesperson, he or she will have information such as orders, invoices, appointments, and the likes on the dashboard. When one is in the creative department, his or her dashboard will contain design ideas, sketches, and whatnot.
Overall, ShopVOX can be customized to one's very liking and organizational context. The pricing plans also start out very inexpensive. This and the free-trial period offering allow interested users to try out without much commitment.