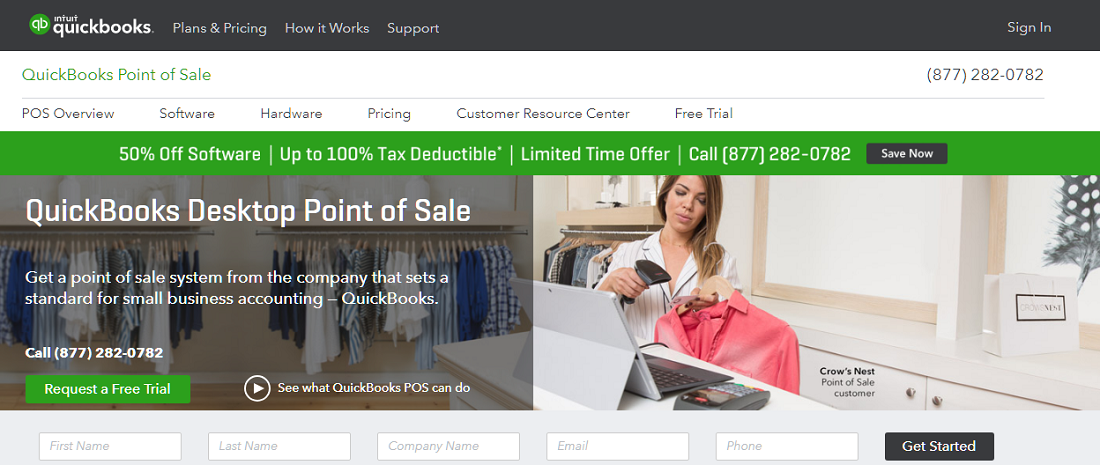 The main benefits of QuickBooks POS are scalability, streamlining of everyday tasks, and reliable customer support. Here's more information about its benefits:
Scalable sales solution
QuickBooks Point of Sale is a versatile POS solution as it can be deployed in multiple ways: as a mobile point of sale, as an online based platform, or as an on-premise service. It was created to aid businesses of any scale in processing payments. QuickBooks POS allows its users to use credit cards as a method for accepting payments. There are more features that the platform offers such as customer management and inventory management. This POS software also supports additional hardware usage such as receipt printers and barcode scanners for a more efficient service.
Streamlines everyday tasks
QuickBooks POS provides a more approachable way of doing the mundane tasks that are performed daily by the users. To help with this, the platform is furnished with a user-friendly interface that can easily be familiarized with and operated by the person utilizing the system. QuickBooks POS also updates the inventory automatically, a feature that eliminates the need for editing necessary information manually. Unlike other POS solutions in the market, QuickBooks POS actually increases the speed of completion of a transaction that utilizes credit card payment with only a single click.
Customer Support
While the product is already easy to operate as it is, QuickBooks POS still offers great support features for its users. The application is equipped with a massive FAQ section which users can refer to in case they needed to clear something with regards to using the system and more. However, if the FAQ section failed to answer the users' queries, they can ask for assistance on QuickBooks POS phone support instead. The system has a bunch of online videos as well which can provide users with an overview of the application. Users can also test the product because they are allowed to interact with it even before a purchase is made.