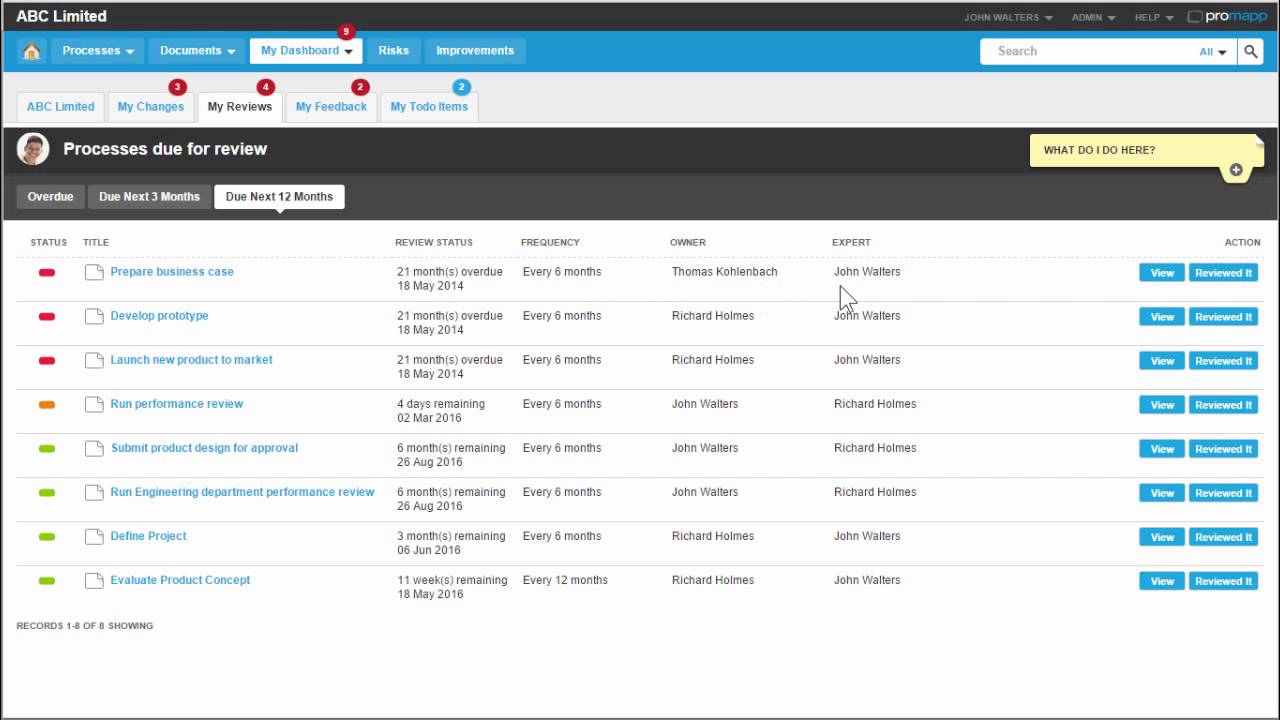 The main benefits of Promapp are its easy-to-use interface, simplified mapping, personalized navigation, improved methodologies, and collaboration solutions. Here are its benefits:
Personalized and Simple
Promapp has been designed with non-tech-savvy users in mind. It is simple to use even without prior training. Also, as the service is quote-based, each deployment is personalized to the client's needs and operational context. One can create and modify these processes in simple steps via the user interface. Users are also allowed to assign priority weights for tasks and processes. They are able to write down their processes in text and the system will generate media accordingly like dynamic process maps, forms or policies. All of these are based on an organization's plan and operational context.
Quality, Risk and HR Management
Promapp includes quality (QM), risk (RM) and human resource (HR) management systems. Firstly, its QM features are offered with a change control methodology. This allows you to inform your team with changes in your processes. Each process version is stored in changelogs permanently and one can go back and review these changes. Secondly, its RM function helps you monitor and analyze threats and processes in your value chain. This includes your suppliers, key stakeholders, partners, customers, and the like. Risk management can now be done in real time and no longer relies on hindsight analysis. Thirdly, Promapp's HR management capabilities allow users to centralize shared information such as manuals and flowcharts. These can now be found in one singular hub. One can also make use of detailed HR templates and personalized them. This includes templates for employee management, rewards, and consequences for misbehavior among other things. The addition of these three management capabilities makes Promapp a true end-to-end business processing management system.
Innovative Methodologies
Promapp users can improve on and complement their methodologies using a deep set of notation styles, tools, guides, and expert advice. Promapp already complements ISO, SIX Sigma, and LEAN methodologies among others, offering them using simplified process descriptions for quick adoption.
Collaboration
The user-friendly system is not only collaboration-friendly but it encourages it. Promapp supports personalized dashboards that contain comments and suggestion sections. File sharing is a breeze in the system and a chat feature is also available. Important conversations are stored in a secure centralized database whenever users feel the need to go back to them as a reference for planning and execution.