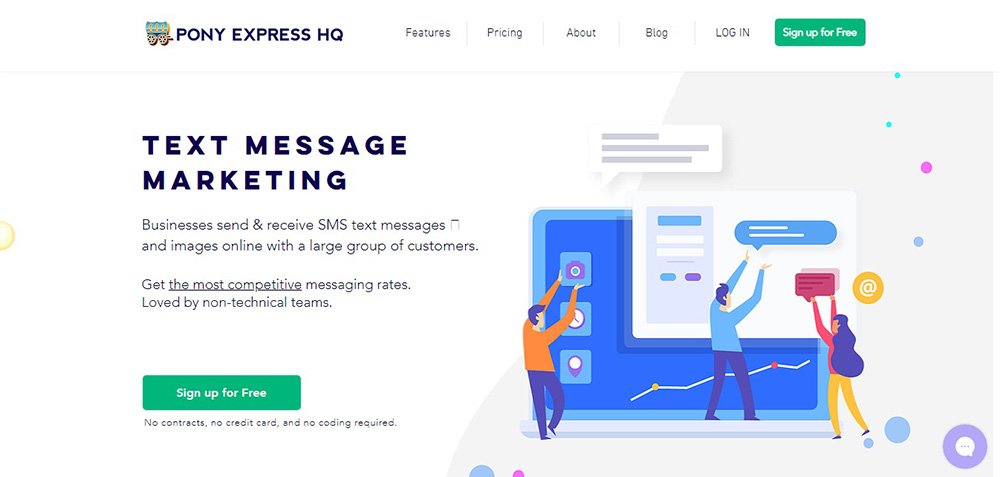 Pony Express HQ is an affordable, easy-to-use tool for getting in touch with your customers through text messages. Here are the main benefits of Pony Express HQ:
Group SMS texting
The software lets you send text messages in real-time. You also have the option to schedule sending of messages where recipients can subscribe (and unsubscribe) to. Based on Pony Express HQ reviews, various users also like how this tool streamlines sending of updates, reminders, news, deals, and promotions on mobile.
Cross-post on Facebook
A new feature introduced by Pony Express HQ, you can cross-post the mass group text sent via SMS on your Facebook wall. This functionality utilizes your content efforts so you can reach a wider audience on social media.
Customizable messages
To save time, you can compose a message and save the message template format for future use. Messages can be customized using the app's pre-designed templates or your own images from your device. To add more flair to your messages, you can also use emojis.
Bulk SMS
Enable bulk SMS with features such as message forwarding, URL link tracking, auto-reload for credits, and web widget opt-in forms. The Pony Express HQ reviews we scoured on the web also showed that the app supports a two-way communication where recipients can respond individually from your group message.