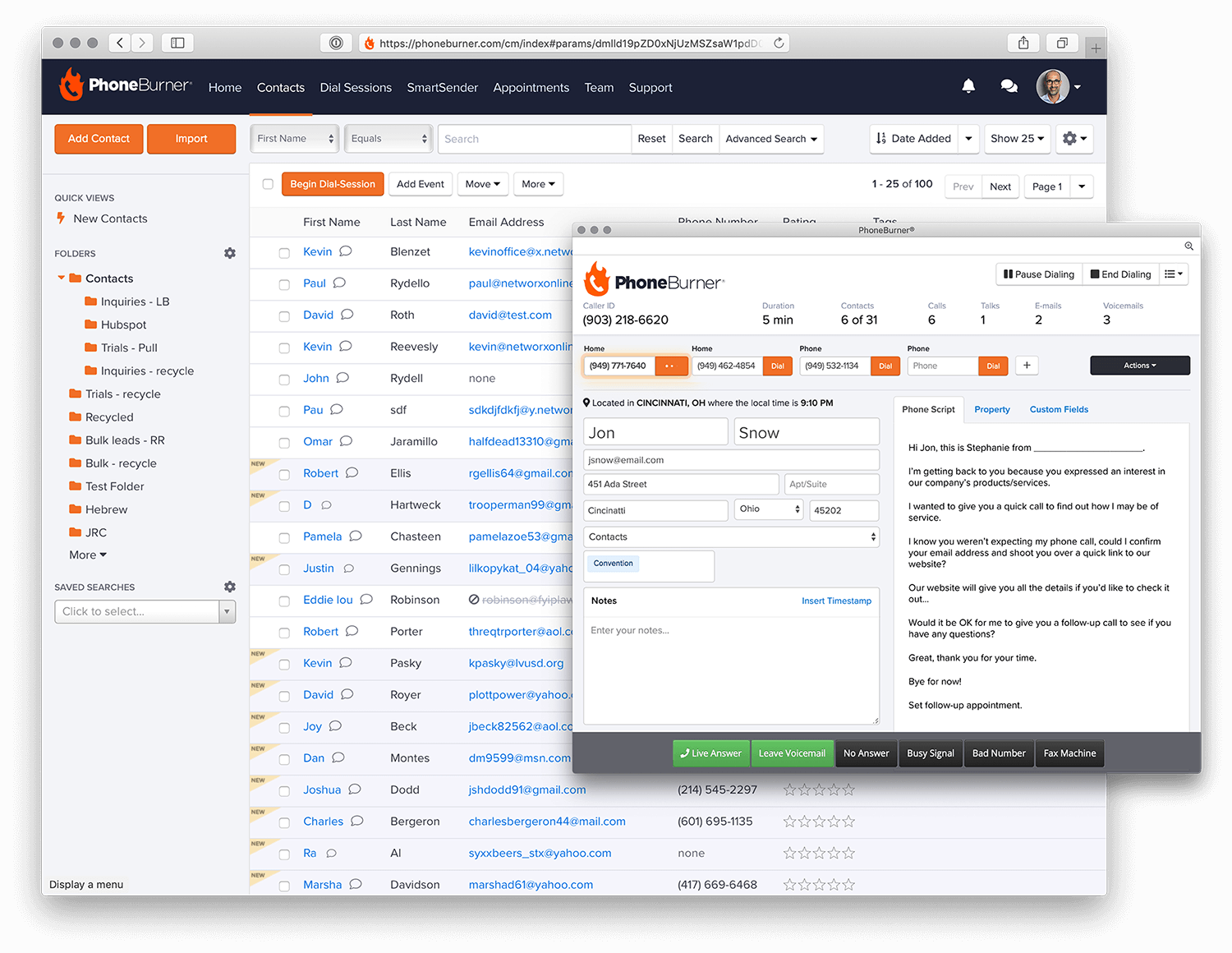 The main benefits of PhoneBurner are its power dialing, leaving voicemails without having to listen first, no delay in connections, cloud-based architecture, emails based on calls, tools for importing and managing leads, premium features, smooth integration with other software, and affordable pricing. Here are more details:
Power Dial
With PhoneBurner, users can reach up to 4x more contacts (about 80 per hour). There is no manual dialing necessary as well and emails and voicemails can be sent instantly. Also, users can easily manage, search, and sort contact. Moreover, since the app removes the sales call drudgery, users can focus their time and effort on closing deals instead.
Instant Leaving of Voicemails
Professional voicemail can be sent with only a single click. Users won't also have to listen to the message first before going onto the next call. This is an efficient process that can save lots of time.
No Delayed Connections
PhoneBurner ensures that there are no delays or pauses to be experienced during the call. It also removes finger fatigues, allowing users to be completely in control.
Cloud-Based
Since it's a cloud-based solution, PhoneBurner won't have to be installed before it can be utilized. Users only have to plug the product into the power dialer with any computer or phone, from anywhere.
Customized Emails
PhoneBurner has a feature called "disposition sets". It's a custom function that allows users to utilize the result of each call as the basis of their actions, such as sending emails. They can also save time in record-keeping and sorting processes.
Leads Import and Management
PhoneBurner has an intuitive CRM that allows it to easily manage leads, schedule follow-ups, and take notes. Users can also create custom searches, tags, and layouts in order to streamline their sales process, allowing them to sell faster.
Premium Features
With premium features available, such as retargeting, call tracking, and call recording, businesses are able to improve their game. All these premium tools are available in the Unlimited plan. Local ID plans also allow users to dial from local area codes.
Seamless Integration
PhoneBurner is natively integrated with Salesforce and through its API, it can also be integrated with third-party apps. Moreover, the vendor offers co-branding and private label partnership opportunities.
Cost-Effective
With PhoneBurner, businesses are able to close more deals by reaching about 447% more contacts every hour without the need for the extra effort. The pricing plans start at $67.50 after a free trial and there are no setup charges or usage fees included.