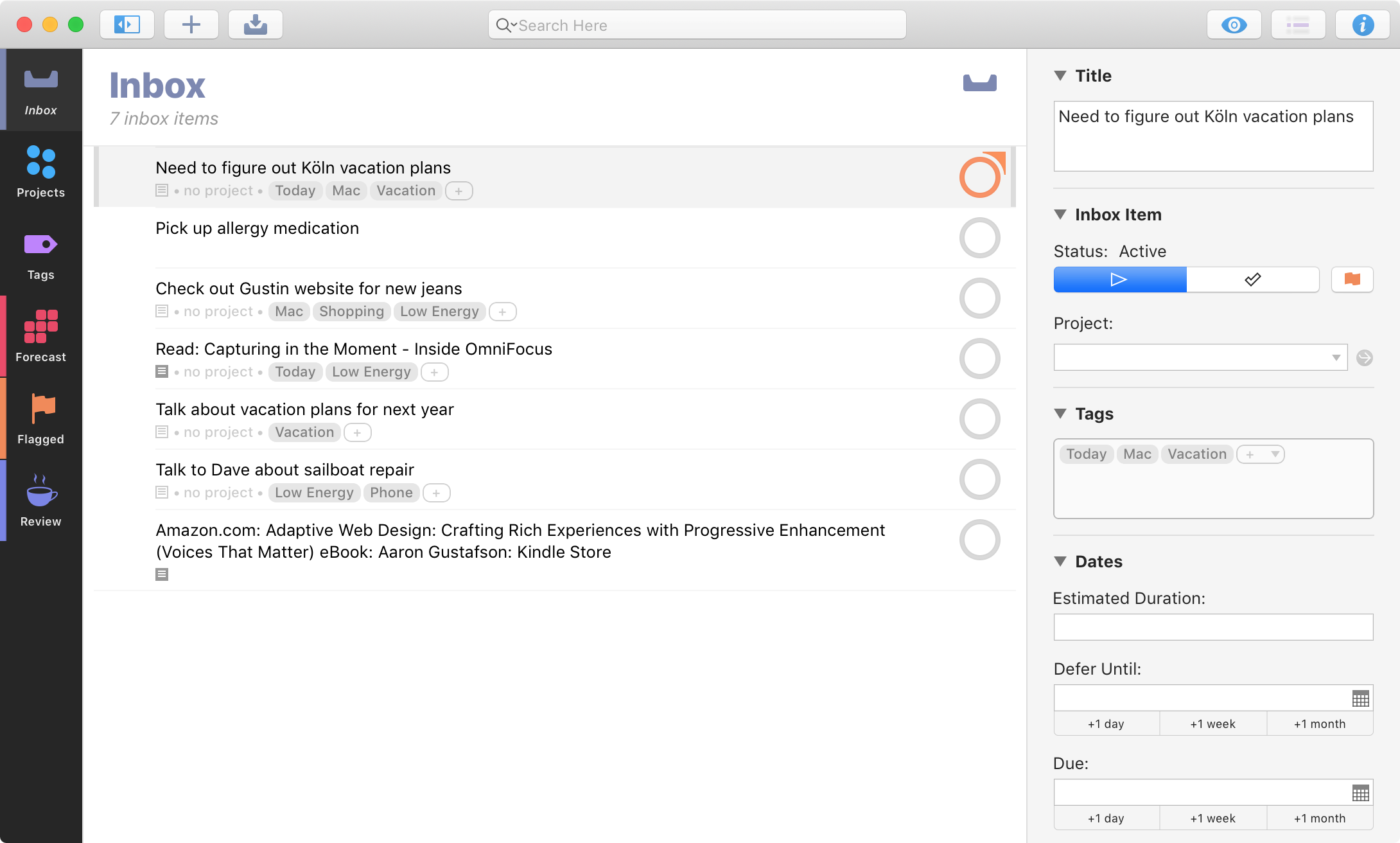 The main benefits of Omnifocus are its task management capabilities, a variety of methods for breaking down projects into more manageable chunks, auto-sync, mail drop feature, and Siri integration. Here are more details:
Task Management Tools
Omnifocus is a robust task management solution designed especially for iOS and Mac devices. It brings a lot of project and task management features such as providing managers and team members with various ways of viewing their progress through the Perspectives function. This feature can also be configured in order to enable users to look at various aspects of their projects either in full detail or individually. This includes project progress, schedules, planning, and more.
Project Breakdown
Omnifocus makes it easy to break down projects into more manageable pieces. Users have the option to perform their projects in a sequential manner, which essentially means that task 1 can't be started without finishing task 2 first. They can also opt to do the Parallel approach where tasks can be performed without any particular order. Furthermore, users are able to organize their tasks in a more traditional approach: by utilizing a to-do list patter.
Automatic Synchronization with all Devices
With Omnifocus, all changes and updates entered in the platform are synced across every iOS and Mac device. This means that changes done while working with the MacBook are automatically reflected on the iPad and iPhone.
Mail Drop
Omnifocus has a feature called Mail Drop which provides users with their own unique email ad where they can "drop" or email their tasks. This can also be used for forwarding messages from Gmail to their Omnifocus account.
Integration with Siri
With its capability to integrate with Siri, Omnifocus provides users with another effective method of inputting tasks. By connecting their account with Siri, users can configure and send their reminders about pending deadlines, schedules, tasks, etc.