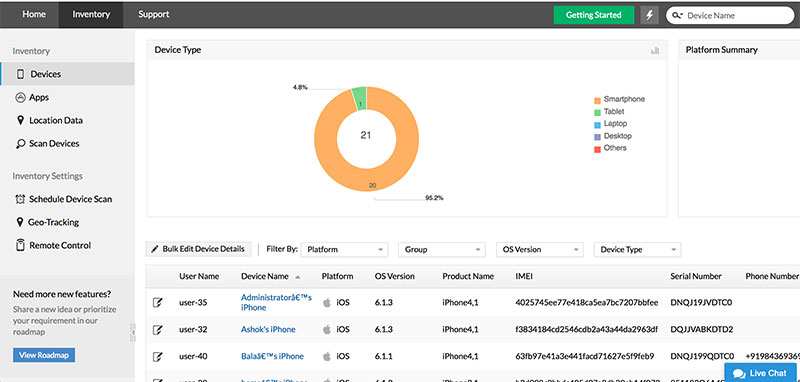 Mobile Device Manager Plus can simplify the way your company manages mobile devices for work by providing your employees 360-degree mobility support and security. You can easily add multiple devices simultaneously with the platform, whether personally owned by employees (BYOD) or company owned. This is made possible by the app's centralized dashboard that gives you full control over configuration and security.
Device managers can perform simultaneous mobile device enrollment over the air as well as automate bulk enrollment processes for Android, iOS and Windows devices to accelerate things. With this platform, you can set restrictions on applications and features, ensuring that users of the mobile devices can access and utilize only the information and tools you specify.
The system enables businesses to distribute applications to the mobile devices, both in-house apps as well as those bought or downloaded from stores. You can also remotely remove, disable, and enable blacklisted apps and provide redemption codes for commercial apps. From the dashboard, you can scan to view details of the apps installed on the devices, install certificates, enforce restrictions and more.
Our Mobile Device Manager Plus reviews show the software helps ensure that corporate emails delivered and received using your mobile devices are secured via Conditional Exchange Access(CEA). This protects confidential data and corporate communication from being accessed by unauthorized individuals and parties.
Other benefits are: you can secure corporate data as the solution uses a whole suite of profiles to ensure there is no unauthorized data access and/or sharing. In addition, it lets you create a logical container on the device that separates personal space from corporate space.
In case a device is lost, you can remotely lock the device and change the passcode. Further, the platform can locate the lost device and remote wipe it, if needed. Finally, you can exercise control over which apps your employees install on their mobile devices by using the app blacklisting feature to blacklist all non-approved apps thereby preventing installation of such apps.