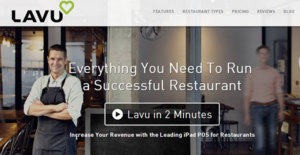 The main benefits of Lavu are its new point-of-sale solution which combines features of old POS systems with new features, it handles HR processes other than Restaurant and Bar processes and it takes multiple avenues of payment such as chip cards, magnetic stripe cards, and contactless payment methods.
Lavu's mobile POS system provides many features that usual solutions don't have. This platform does the job of the old POS systems and adds new features on its own. Here's some of them.
Robust Hardware/Technology
Lavu uses the latest technology and hardware for restaurant management such as self-serve kiosks and digital menu boards that make transactions and order taking faster and more convenient.
Inventory/Labor Management
As the app can create solid control and supply better data about labor and inventory, businesses can streamline their expenditures and improve revenue by improving their business processes such as payment and ordering.  The app also has front-end and back-end business support.
Third-Party Integrations
Lavu can also integrate smoothly with known third-party apps as the app has an open API. Businesses with Lavu's help have the flexibility to personalize their system according to their company's needs.
Richer Customer Experience
The app also provides establishments to boost their process speeds and shorten wait times. With faster service, customers are more satisfied which could grow customer loyalty and earn some regular customers.
Easier Training/Onboarding
Lavu also improves crew training and onboarding processes, which enables its users to immediately improve their manpower whenever needed.
Payment Processing Made Easy
Lastly, the app also accepts payments in many known options such as chip cards, magnetic stripe cards, and contactless payment methods like Apple Pay-all from one device. With this feature, both the business and customer benefit from the faster service speed.