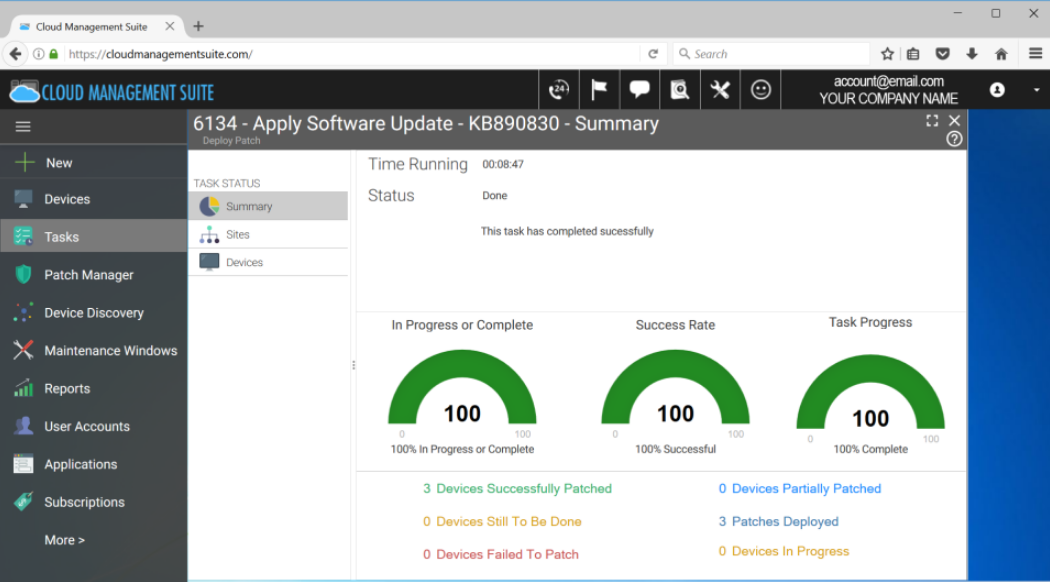 The main benefits of Cloud Management Suite are, it remotely manages network devices, automates predictive patch management, and pinpoint vulnerabilities with ease. Here are more details:
Remotely Manage Network Devices
One of the unique aspects of the Cloud Management Suite is the remote management module. The module includes innovative features that enable IT professionals to manage the endpoints, devices, and systems in their network anytime, anywhere and from any browser-enabled device. The best part is that it's easy to accomplish all the management tasks without installing or relying on a third-party remote control tool. Cloud Management Suite utilizes the HTML5 technology which makes it easy to remotely manage any device that supports this advanced markup language.
Automated Predictive Patch Management
Also, Cloud Management Suite enables IT professionals to implement software updates and security patches across devices and applications connected to the network. The solution utilizes automated patch management technology to pinpoint vulnerabilities on unpatched devices and remediate them before they expose the entire network.
Pinpoint Vulnerabilities with Ease
Better still, Cloud Management Suite through the predictive patch management tool implements a Common Vulnerability Scoring System (CVSS).  This vulnerability scoring assigns a numerical score to every vulnerable device and interprets the score to establish the severity level. This enables IT professionals to measure and establish critically vulnerable devices and remediate instantly to avert potential risks.