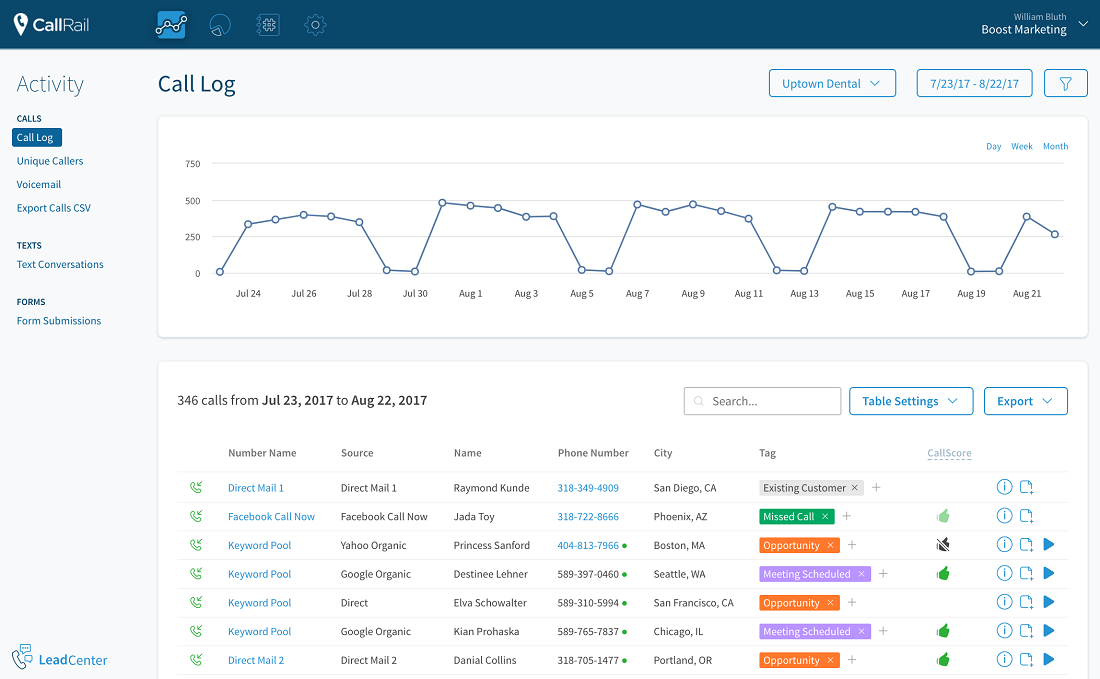 The main benefits of CallRail are its functionalities that help users measure and understand conversions, real-time reporting, marketing functionalities, call analytics dashboard and a plethora of other helpful features. Here are more details:
Measuring and Understanding Conversions
The platform helps in understanding which websites, search words, and campaigns are driving conversions. It comes with a visitor timeline feature where users can view the complete customer journey on their website. The conversion-related information is then fed to Google Analytics. On top of that, t also optimizes the call tracking campaigns in AdWords.
Real-time Reporting
CallRail features real-time reporting which allows users to know when a call is received and determine which of their campaigns are delivering results and bringing a good return on investment.
Marketing Functionalities
CallRail helps in identifying which among the marketing channels that a business uses are generating more calls. Aside from that, the platform measures call leads received from direct email, radio, TV, newspaper, and other traditional means of advertising. Users can also gather important caller information using the platform so they can understand their callers and provide better service.
Call Analytics Dashboard
CallRail's call analytics dashboard presents information about individual calls. It also helps users understand effective campaigns and visualize trends.
Plethora of Helpful Features
Among the noteworthy features of CallRail are its email notification functionality, which keeps users updated when a lead comes in and a visitor timeline that displays a site visitor's activities and browsing behaviors. This allows CallRail users to determine which of their website pages delivers most of the phone calls they receive. The functionalities of the software are not limited to the built-in ones. It also offers seamless integration with numerous marketing, analytics, as well as sales software such as Salesforce, Google Adwords and Analytics. Last but not least, it supports voicemail transcription, SMS, lead capture, and the ability to conduct follow-ups.