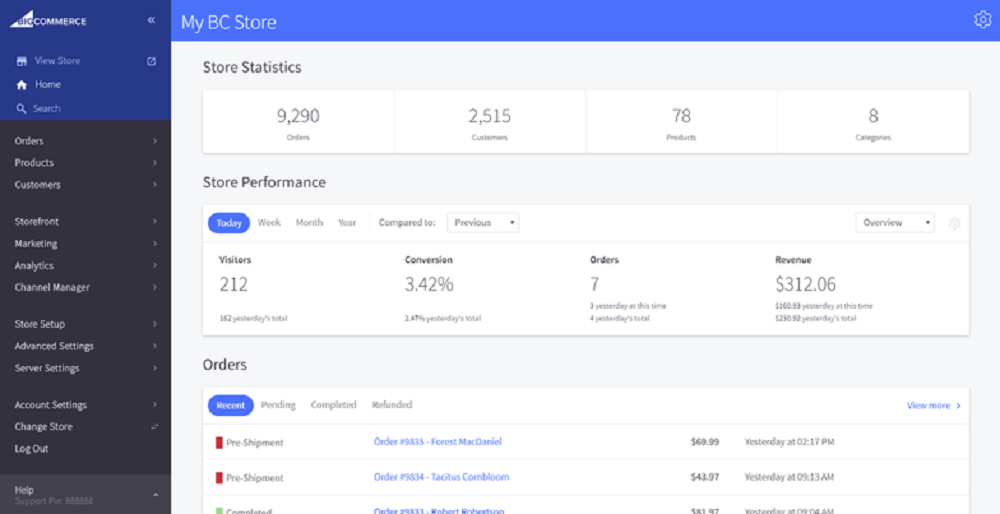 The main benefits of Bigcommerce are its end-to-end ecommerce solution capabilities, it promotes better customer engagement, it provides in-depth analytics, it features highly customizable interface and it allows you to manage all your channels in a single hub. Here are more details:
Centralized e-commerce platform
No matter what eCommerce tools you need, social media marketing, warehouse management, SEO, or payment processing, Bigcommerce got your business covered. It also supports integration with third party apps and your other existing systems so that you won't have to jump from app to app to perform your tasks.
Engaging customer experience
This platform is complete with all the tools and features you need to create an attractive, highly appealing online store that maximizes customer engagement. It also makes your site mobile friendly and SEO optimized which aids in enhancing your site's traffic, conversions and search rankings.
Comprehensive analytics
Bigcommerce guides your business to be a better version of itself by providing you with the information on which specific aspects you need to act upon. It provides relevant insights about this data through eCommerce analytics feature. This allows you to better comprehend your customers' buying habits which you can use as a basis for implementing proper actions to boost your sales.
Personalized interface
The solution does not follow the one-size-fits-all approach which is why it offers an interface with an open architecture. Through this, users are freely able to integrate third-party apps or their other current business systems. You can also create features from scratch if needed via its webhooks and APIs.
Channel manager
Bigcommerce features Channel Manager which allows you to combine every aspect of commerce, enabling you to discover new sales channels and connect with them. You are also able to sync orders, product details, and inventory in just a single location regardless if you're managing multiple sites.