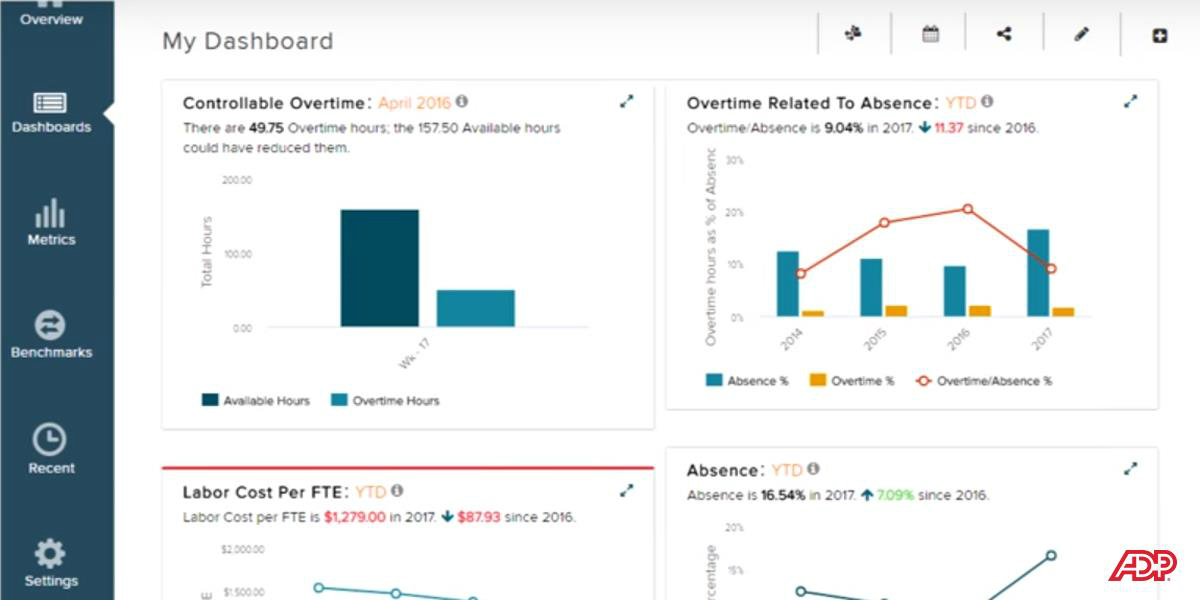 The main benefits of ADP Workforce Now are its general usability, customizations and mobile support. The following details spell out these advantages to be had when you use ADP Workforce Now:
HR Management and Payroll
Using one dashboard, the app helps organize all your workforce management, including benefits, bonuses, payroll, time and attendance, commissions, talent management, and employee health statuses.
Cloud-Based Storage and Analytics
ADP Workforce Now displays real-time analytics and users can create and customize reports, charts, and spreadsheets. Also, the app is entirely web-based and it provides hosting services, which feature regular security backup and server audits.
Optimization and Usability
You can access the software using your smartphones or tablets. With the app provided by its vendor, all iOS and Android users can acquire full visibility of all reports and statistics while managing their HR tasks anytime, anywhere.
Resources and Reports
Video tutorials, demo, and online support are included in the software's package.
Data-Driven Insights
Analytics are available so you can come up with better decisions and help you see how your business compares against the benchmark data.
Easy Tax Filing and Payroll
With payroll calculations that are available in real-time, users can reduce their administrative errors and duties.
Cloud-Based Software
With the software's cloud integration features, users can access the integrated insights and tools for their businesses anytime, anywhere.
Reliable Support
Vendor's experts help users manage their responsibilities as employers using arrays of service options.
Effective HR Management
You can do more than your compliance and administrative duties and concentrate on recruiting and managing employees with the software.
Benefits Management
Streamline your benefit plan management processing and get ACA compliance support while improving your enrollment capabilities.
Time and Attendance
Improve productivity using an automated time tracking, employee self-service, and reporting features on your mobile devices.