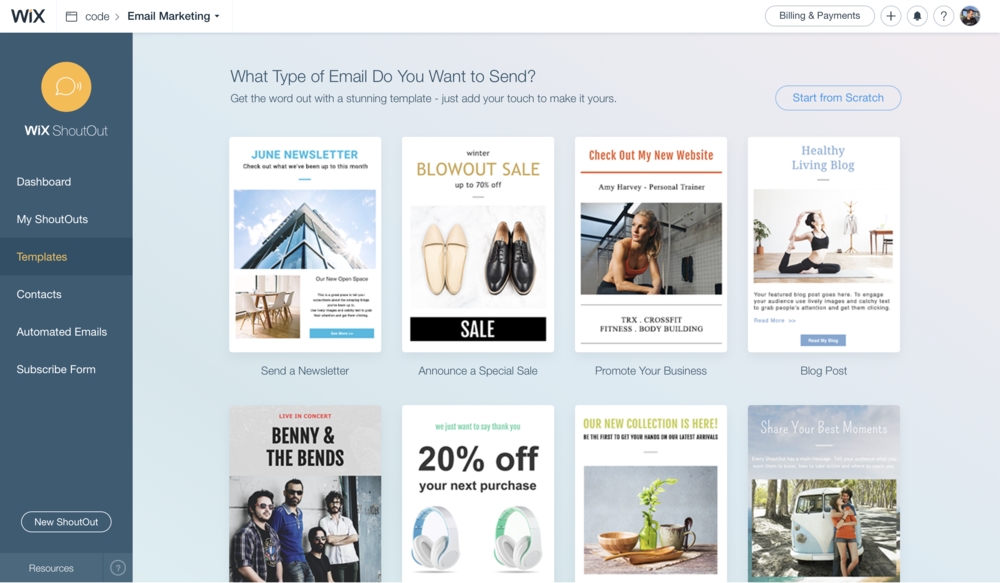 The main benefits of Wix are its easy-to-use interface, numerous designer templates, mobile optimization, and payment solutions. There is no coding or any technical know-how needed to create an attractive website on Wix. The user interface is so intuitive that kids can make good-looking websites by themselves. Thanks to a ton of customizable templates, many of your design and technical worries are taken care of.
Products can be arranged in galleries where customers can quickly find whatever it is they need. Pictures, prices, and other fields can be added per item. Customers can also find accurate stock information and can directly move to checkout from there. Furthermore, the checkout pages can be customized as well. Users can put in their brands and edit one of the many templates to fit their company image using a drag-and-drop interface. In addition, Wix has an SEO service to help you rank on search pages and you do not have to be an SEO expert to use this tool.
For customers, they will experience a streamlined shopping experience. They can choose, modify, and pay on the same website. Customers can put in and take out items before the checkout process. Additionally, users can have promotional offers on these pages to push other similar products or upsell to a new deal. Also, they can pay directly from the platform, thus abstracting the need not go to their bank's website or a third-party site to pay for their merchandise. With Wix's mobile compatibility, you and your customers can access the site. Additionally, Wix does not charge a thing for payment processing. That means you pay 0% commission on every purchase. It also calculates your tax in advance so you do not have to worry about it in the future.
There are many management and shipping tools available with the platform as well. These help users deliver their products to the specifications that customers like at the right time and place.
At the business end of the platform, Wix enables its users to gain access to leading marketplaces. It also integrates very well with other sales, inventory, marketing, and CRM systems. You would not have to alter your current software ecosystem to add Wix in. It is ready to use with whatever your business is using right now.
Though Wix comes with many features, you can still purchase extra widgets to boost your website's functionalities. You can find all of these in the app marketplace. Also, when you have further inquiries, the Wix team of experts is always there to assist you. You can contact them via email or phone. There is also a rich knowledge-base from the active user community that reaches up to more than a million.