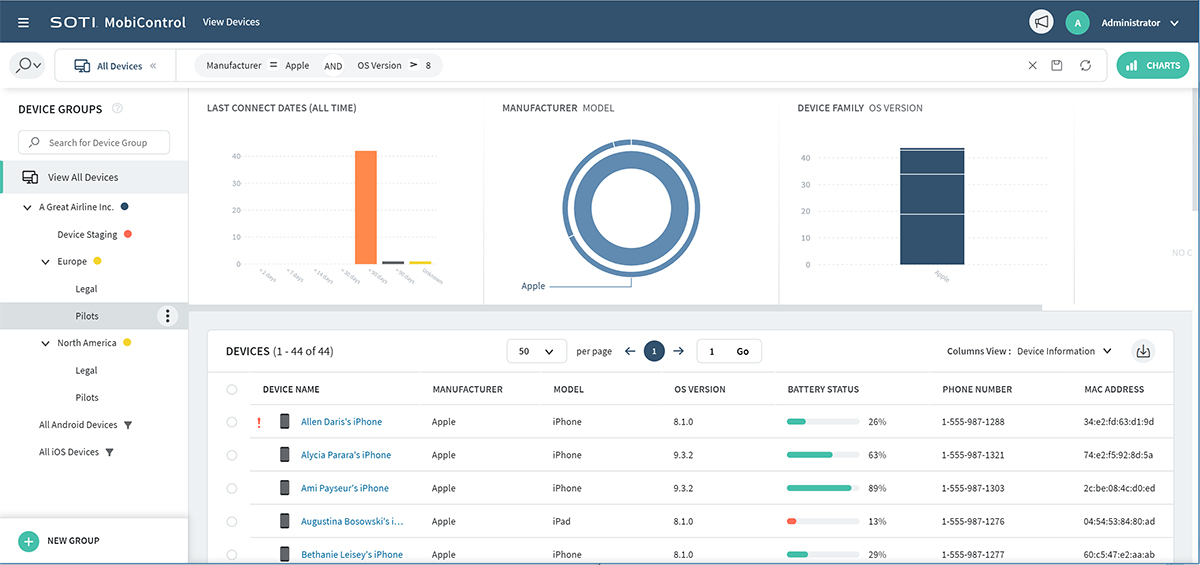 The main benefits of SOTI MobiControl are it supports a wide range of mobile devices, quickly provisions the workers with the proper devices, gives a quick solution to problems that trigger downtime and integrates well with other SOTI solutions. Read below for more information:
Supports a wide range of mobile devices
SOTI MobiControl supports devices that run on all the major operating systems( Windows, Android, Linux, and iOS) from more than a hundred and fifty device manufacturers. This provides organizations with the freedom to choose and use the devices that are best suited for them after taking into account the relevant factors such as security requirements, cost, form factor, and operating system.
Quickly provision the workers with proper devices
The application allows the businesses to deploy mobile devices to their workforce quickly. It also ensures that workers will obtain the correct devices and that each device is properly set up in accordance with the company's mobility policies. Correct set up of the devices is accomplished through the integration of the devices with their OEM (Original Equipment Manufacturer) rapid enrollment solutions such as Samsung KME, Windows Autopilot, Apple DEP, Zebra StageNow, and Android O zero-touch enrollment.
Gives a quick solution to problems that trigger downtime
Workers will enjoy reduced downtime and increased focus on their work because of the remote support features and integrated productivity tools. SOTI MobiControl has a set of features for providing support remotely such remote view, remote control, two-way chat, and file sync. They all provide a quick fix on device and application problems that cause delays of work.
Integrates well with other SOTI solutions
To further empower their workers, companies can utilize the complete set of mobile content and app management tools. They can employ the services of the content management solution of SOTI, the SOTI Hub. It allows their users to obtain access to files on the devices regardless of its location. It is capable of accessing files of the device, whether they are within the network of the company or in the cloud. Companies can also use SOTI surf, which is their secure browsing platform, for managing access to the site by the users. With this, companies can block restricted sites as well as obtain access to intranet sites.