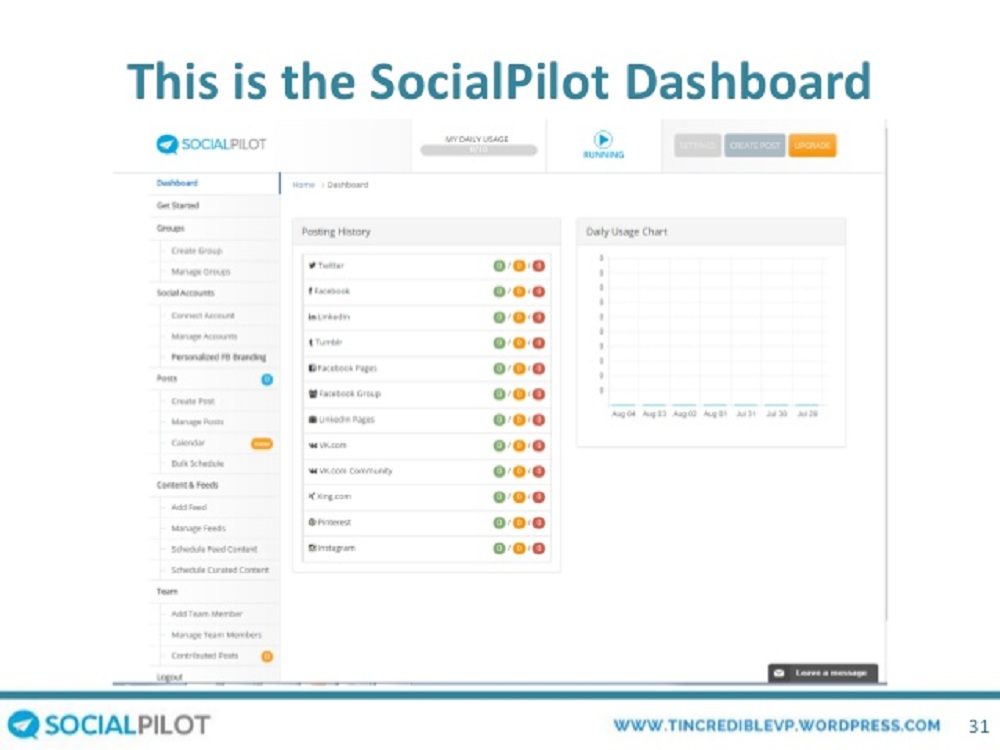 The main benefits of SocialPilot are its feature for overwriting the default Facebook brand on shared posts, bulk scheduling capability, boost in team collaboration, rich browser extension, social media analytics tool, and client management feature. Here are more details:
Facebook Branding
Each time something is being shared on Facebook through automation tools such as Hootsuite or Buffer, the app name along the post shown is Facebook's. SocialPilot can override this setting, enabling users to place their own branding instead of Facebook default. This way, the company brand is promoted and the shares don't look automated.
Bulk Posts
SocialPilot is capable of easily creating bulk posts, a feature that makes the system an ideal option for enterprise level clients. This is done by uploading CSV files that contain 500 posts, a handy method, especially for marketing agencies that need clients' approval for every content in social media posts and, have numerous posts to share every day.
Enhanced Collaboration
The application makes it easy for users to invite team members for collaboration, sharing files, communicating with each other, and coming up with useful business ideas. They won't also be needing to restrict the number of participants since SocialPilot's charge isn't per team member.
Robust Browser Extension
Users can extend the system's reach by installing its browser extension on Safari, Firefox, or Chrome. The perk of this is that users are able to share any interesting articles they found on the internet. It can also be utilized for sharing posts from the Twitter timeline and Facebook newsfeed. Another neat benefit of using the extension is that it enables users to schedule images from Canva.
Analytics
SocialPilot is equipped with a powerful but comprehensible social media analytics that enables users to improvise their marketing's efficiency. Also, the contents analyzed by this tool is not limited to the posts that come from the system but from other sources, accounts, and pages as well.
Client Management
SocialPilot features a Client Management tool that can easily manage the customers' social accounts without any hitch. This way, users won't have to wait for their clients to make them an admin of their pages or give the login credentials to them since they are now able to manage their accounts. That is because there is no need for exchanging account credentials, company logos, and brand name during the invitation, effectively preventing the need to reveal the company's social media toolkit.