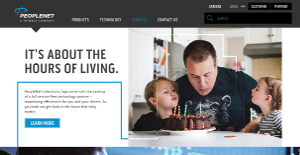 The main benefits of PeopleNet are combining accessibility, maximizing your profits, and generating comprehensive reports.
PeopleNet tracks down the performance of your employees and provides a detailed report on metrics relating to engine performance like fuel efficiency, speed and idle time. All of this data is made available in the Vehicle Management Comparative Dashboard, which also shows all your drivers' performance for cross comparison. PeopleNet is also widely lauded by fleet managers for its ability to deliver essential reports that can be accessed in real-time and the simplicity of doing trend analysis that it offers. 
With satellite technology, the platform allows you to combine mobility and network communication in real-time, which is a benchmark for analysis and decisionmaking in fleet performance management.
Overall, PeopleNet gives you insights into the overall performance of your fleet. This way, you can manage costs and expenses while gaining the maximum benefits of the system for profit. The interface is also available for drivers to help them in their navigations and monitor their own performance in real time.