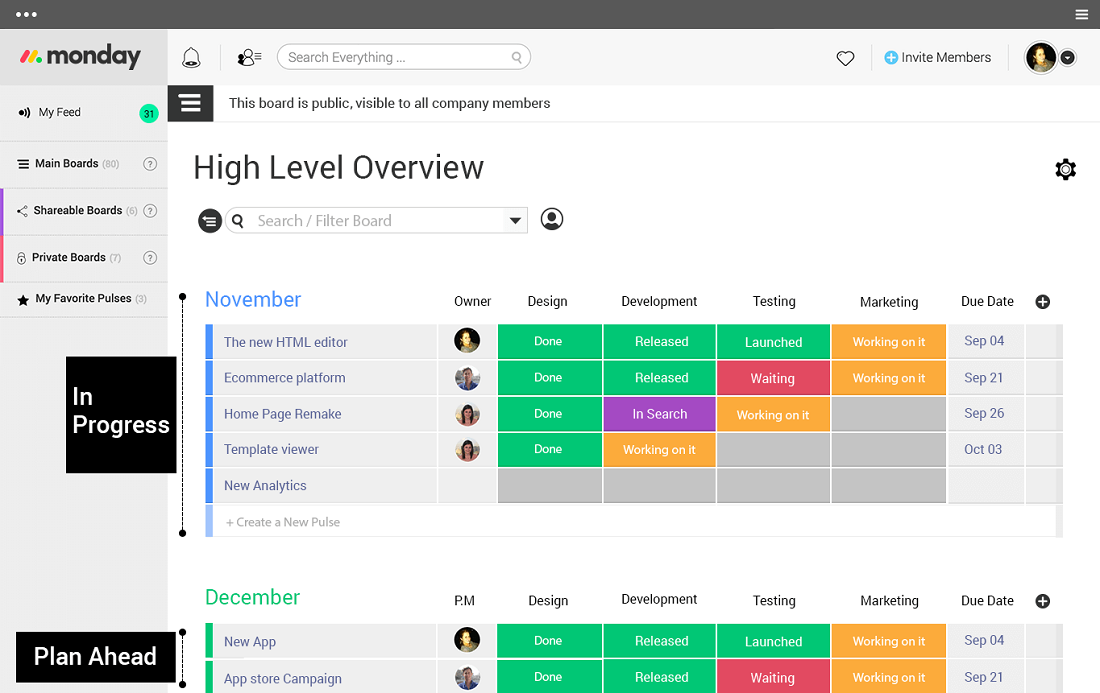 The main benefits of Monday.com are its rich features, tools, and capabilities as a CRM software, streamlined collaboration provided to users, unique project and task management modules, reporting and analytics features, and its support for all essential integrations. Here are more details:
Powerful CRM solution
Monday.com is an ideal, cost-effective, and efficient alternative to the messy spreadsheets processing. It also eliminates the need for using third-party solutions for customer management and unifying data from other productivity apps. The system provides a single platform for handling both customers and projects easily while being transparent.
It can also be used for tracking and managing projects and leads, both on the same dashboard, while giving users all the contact info they need for smoother communication. Furthermore, it has a customer hub that allows users to configure any component to make it ideal for them. And no matter how much modification is made, the system will still remain in control of the changes such as dismissed actions, replaced statuses and dates, repositioned agents, and others. Monday.com is straightforward as well, on top of being a lightweight application, making it easy to operate without the need for preparation or training.
Efficient collaboration
The system empowers departments and agents to seamlessly assist each other. Each of them can contribute to projects and tasks, create comments, trigger discussions, ask questions, suggest solutions, and more. This feature is also presented through a social media-like interface, complete with uploading and sharing of files.
Out-of-the-box task/project management features
Monday.com is equipped with unique concepts for generating detailed insights on tasks and products and when information about clients or contacts are needed. Thanks to this, it is easier to track the business' performance and ascertain the assistance given to every client that needs them. The system even allows partners and external users to monitor the project's progress and notify them as well with special alerts if they aren't registered to Monday.com.
Reporting and analytics tools
The platform also collects and relates arithmetically tasks and projects to sort them in one historical datasheet. On the other hand, managers are given clear, organized, and operable figures and metrics. It also ensures that the database is always up to date and can be exported to third-party applications.
Integration support
Another one of the strong aspects of Monday.com is its ability to integrate with any system out there. It can blend seamlessly to any software ecosystem it's applied to and there are also custom connections that can be created for any external applications. And of course, it has native integration support for various leading systems such as Zapier, Dropbox, and Google Drive.