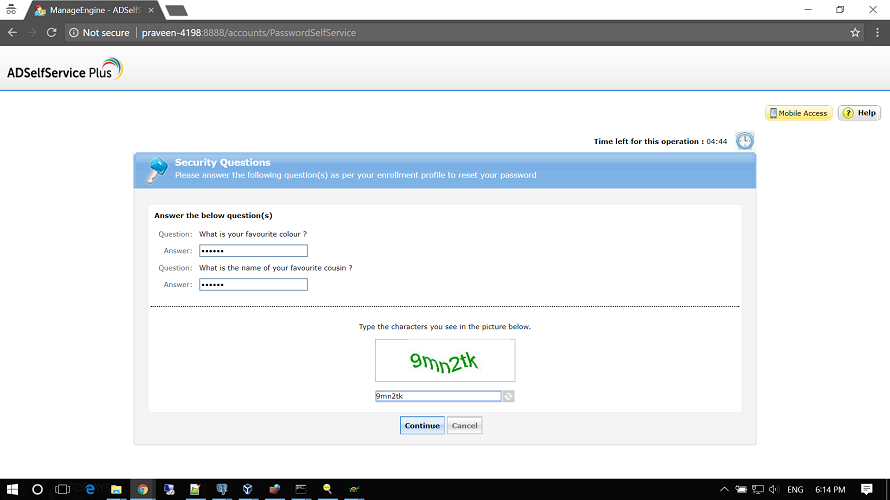 The main benefits of ManageEngine ADSelfService Plus are its ability to reduce helpdesk query tickets, self-service password reset and management by end-users, synchronization of various operations, and reliable support. Here are more details:
Lowers Helpdesk Queries
According to some studies, 30% of the queries received by the helpdesk are related to the account lockout and password reset issues. By utilizing ManageEngine ADSelfService Plus, organizations are able to measurably lower the number of tickets pertaining to these problems. The reason for this is that it delivers a secure, robust, and reliable online self-service solution that even end-users without technical expertise will find easy to use.
Self-Service Password Management
The platform allows end-users to manage their passwords by themselves. Also, they can update their personal information in the Active Directory without the need for any systems expertise. On top of that, the program provides stringent security while the password reset process is in progress. This is done through the identity and enrollment verification questionnaire.
Self-Service Reset
ManageEngine ADSelfService Plus is an application that gives end users a robust capability to self-reset their domain password, even by remote methods, in Windows Active Directory. This is done via a web browser and without the need to ask assistance from an IT helpdesk. The system also empowers domain users to self-unlock their accounts if a lockout occurs, through web browsers and various remote machines as well.
Sync of Operations
All operations that involve password updates and resets are captured in Active Directory and then it synchronizes them in real-time throughout other IT systems related to the users' accounts. This process is not only applicable to password updates and resets but to cloud apps as well. Real-time sync of passwords means that users aren't required to remember multiple passwords. This significantly lowers the need to make help desk calls related to such issues.
24/7 Support
The platform also features mobile apps for different platforms such as iOS and Android to cater a 24/7 self-service support for users that are usually away from their laptops and desktops and mostly spend their time on mobile.