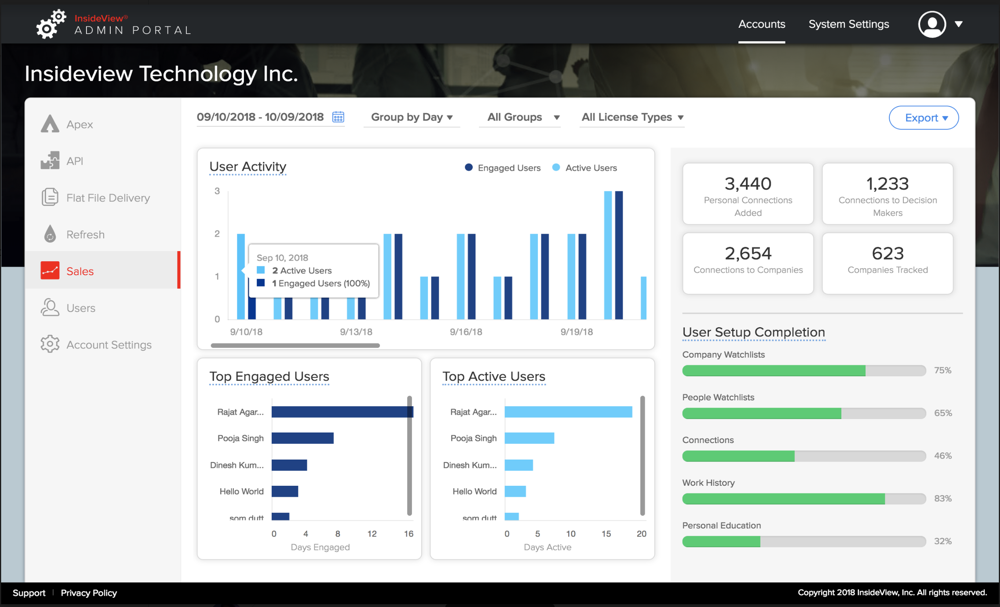 The main benefits of InsideView are the multitude of services it offers, large data sources that users gain access to, event-triggered alert tool, conversion of cold sales call into something more beneficial, list building tool, and smart agent feature. Here are more details:
Wide Range of Available Services
InsideView provides users with a wide array of services. This means that businesses can greatly benefit from the software. One of which is giving their organization a strong foothold in the field by facilitating their sustainable growth amid tough competition.
Huge Data Sources
Probably the best advantage that InsideView can give to its users its capability to provide them with direct access to the profiles of more than 50 million companies and individuals. This huge data is integrated with the CRM system and every social media activity is monitored to identify the behavior patterns of the customers.
Alert Tool
One of the handiest features that InsideView offers is the alert tool. This is triggered by any event in organizations or businesses, such as mergers or introduction of a new product.
Conversion of Cold Sales Call into a Strong One
A cold sales call can be turned around and converted into a strong call. This is done by taking advantage of social media networking through InsideView. This type of networking links businesses with individuals that can be potential customers. The system aids users in throwing the most appropriate calls at the right time.
List Builder 
A list builder is offered by the system in case users are looking for a particular individual or business. Different options can be applied as a filter for reaching a potential audience.
Smart Agent Feature
Smart agent feature provides users with the alert option. It can also be utilized for monitoring contacts. All the required information is sent via emails.