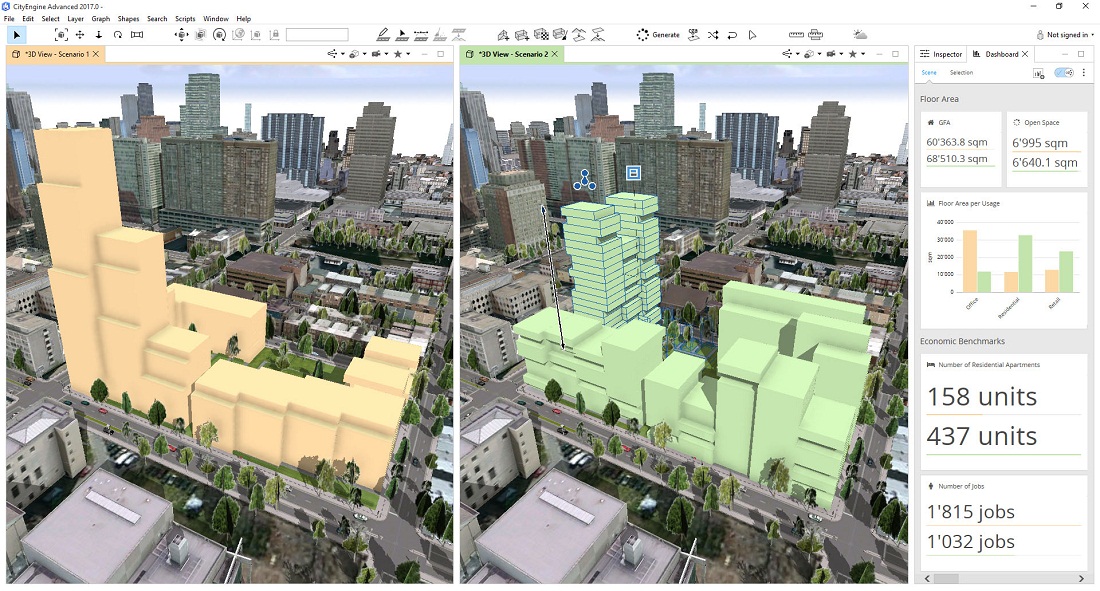 The main benefits of Esri City Engine are its highly customizable user interface, capability to design and create a 3D urban scene based form GIS data, and dynamic city layout feature. Here are more details:
Customizable UI
Esri CityEngine is equipped with a customizable user interface, which means that it adapts to the current tasks at hand. No matter the aspect of development users are currently working on, be it editing with live feedback, studying reports of current developments, rule creation, etc., the system makes it easier. The interface allows easier management of repetitive tasks, generating reports in the preferred format, and automating specific actions.
GIS data-driven 3D urban design
One of Esri CityEngine's highlight feature is its capability to design and create 3D urban scenes by utilizing the existing GIS data. The system simplifies the process of coming up with 3D contents of great quality through a combination of attributes, 2D data, and procedurally defined rules. This empowers GIS business organizations to make stunning 3D urban environments with only the data they have as a source. Furthermore, rule-driven 3D city model enables easy iteration through different design scenarios via changing rule parameters.
Dynamic city layout
The system has a feature, the Dynamic City Layouts, which allows users to generate interactive networks of streets that can be automatically updated live. Certain parts of specific urban contexts such as whole blocks, streets, and sidewalks can efficiently adapt to user input and provide an intuitive way of coming up with a comprehensive and complete layout of a city. The application excels in the aspect of data interoperability as well since it supports the most commonly used formats for data export and import. It also gives users the freedom to transport line data in and out of CityEngine, modify 3D geometry, and shape data footprints.