Flexible work is evolving fast and its alteration is proliferating — it can be said that it has gone viral. Flexibility is the umbrella term used to describe any role that breaks the traditional 9 to 5, five day work week structure. Be it telecommuting, part-time professional roles, flexible scheduling, and freelance jobs, at the core of flexible work is the greater freedom it offers to individuals over when, where, or how to fulfill their tasks.
Let's take a look out how flexible working evolved throughout the years and how it affects the current employment trends.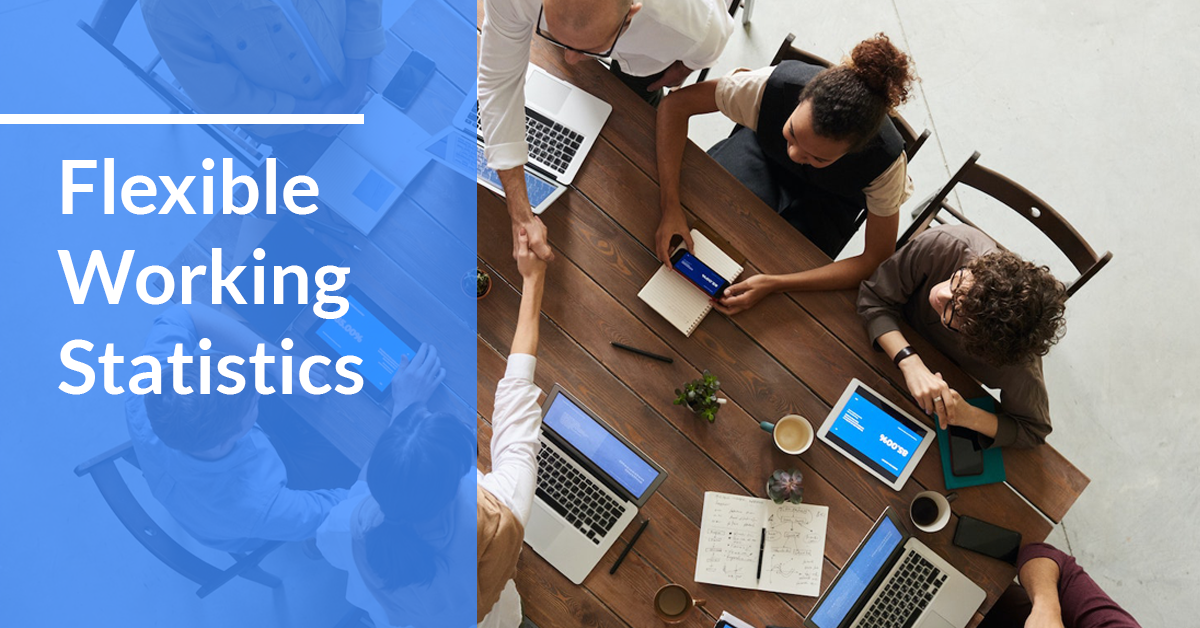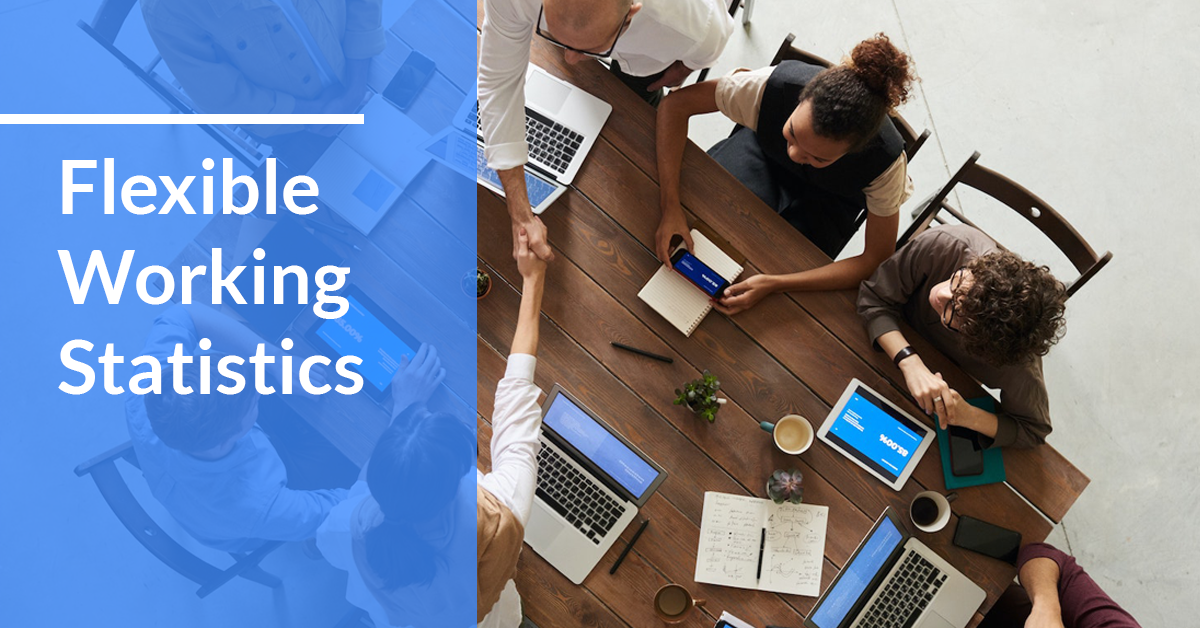 Flexible Work Statistics Table of Contents
General Remote Work Statistics
The way we work is changing. The digital age of smartphones and laptops mean the pressure to always be ON is high. As a result, more and more professionals are asking for flexible work hours, location, and time they can sign off to unwind or spend time with their family and friends.
44% of companies around the world don't allow remote work at all.
The number of people who work from home is up to 140% since 2005.
67% of small businesses offer some mode of flexible work arrangements.
89% of companies report better retention rates because of their flexible work options.
In the US, 4.3 million people work from home, with the help of productivity tools, at least half the time.
Small companies are more likely to hire full-time remote workers than big companies.
58% of respondents in a 2018 survey by Statista said that flexible working improved their job satisfaction.
Flexible Work Demographics
Although flexible work is a relatively new concept among full time professionals, there are a lot of senior management who embrace the idea of having flexibility with their schedule. It may be more common for younger professionals to work remotely, but this paradigm is shifting towards a more even distribution. With retirement age rising across the globe, many people age 55 and older are taking advantage of remote work to prolong their careers.
In 2018, a survey done in the US showed that 55% of Generation X respondents said that work flexibility is important, compared to 49% of Generation Z respondents, 53% of Millenials, and 50% of Boomers.
51% of respondents between the age 45 – 60 years old and 70% of respondents between 18 – 34 years old said that they regularly take advantage of flexible work setup respectively.
18% more executives across all industries worked remotely at least once a week.
55% of founders/C-level executives and 48% on VP level avail of the flexible work schedule.
8% of men around the world are more likely to work remotely than women.
South America has 81% more fully remote companies.
78% of people who have college degrees would prefer flexible time.
Key Remote Work Statistics
Flexible work has gotten so big over the last decade that it impacted how companies and employees view work-life balance. It actually plays a very direct role in people's well-being, and their decision-making when it comes to work. The New York Times reported that "flexible scheduling and work-from-home opportunities play a major role in an employee's decision to take or leave a job." And as far as employers are concerned, a flexible work policy can provide a competitive edge.
Individuals who work remotely at least once a month are 24% more likely to be happy and productive.
87% of professionals think that holding a flexible job would lower their stress level and 97% claim that flexibility in their jobs would have a positive impact on their overall quality of life.
76% of workers said they'd be more than willing to stay with their current employer if they could work flexible hours.
73% of employees said that having flexible work arrangements increased their work satisfaction.
16% of companies hire remote workers exclusively.
Companies who allow remote work have 25% lower employee turnover than those that don't.
60% of US companies offer telecommuting options to their employees in 2016. This is a threefold increase from 1996 to 2016.
A survey conducted in 2019 revealed that 61% of global companies allow their employees to have some sort of remote working policy.
Challenges of Flexible Work
Like any type of work setup, remote workers and remote worker managers alike face a lot of challenges. Being a relatively new work setup, both employees and employers confront major adjustments in order to ensure efficiency and productivity.
Brainstorming is the most challenging kind of meeting remote workers face.

75% of remote workers say their company doesn't pay for their home internet.

48% of employees say they miss conversations the most when working remotely.

82% of remote employee managers say they are most concerned about reduced employee productivity and focus.

22% of remote workers say that their biggest problem is unplugging after work.

Full-time remote workers are only 30% engaged in their work, which surprisingly, is the same as people who have never worked remotely.

Staying in the loop is the biggest challenge remote workers face.
Benefits of Remote Work
Remote work has increased in popularity over the years mainly because of the various benefits it offers. With all the work-related challenges and stressors professionals face along with the clamor for work-life balance, a flexible work schedule seems to be the perfect work setup for a majority of workers. But it goes without saying that flexible work not only benefits employees but also helps businesses to thrive as well.
75% of people who work remotely said they do so because there are fewer distractions.
86% of people feel that working remotely reduces their stress level.
Employers can save around $11,000 each year for each employee that works remotely. These savings come in the form of eliminated overhead cost such as utilities and office space.
40% of people feel that a flexible schedule is the greatest benefit of remote work.
44% of remote workers who enjoy unlimited vacation benefits only take two or three weeks off per year.
21% of workers are willing to give up some of their vacation time to get flexible working options.
Telecommuters have over $4,000 average annual income than other workers.
Flexible Work Trends
Remote work is not a trend; it's here to stay. Once considered a generous perk, flexible work has taken on new meaning and relevance. More and more companies started to offer flexible work environments. As a matter of fact, flexible work is one of the top four ideas shaping the future of HR and hiring.
In the UK, the four-days a week work trend is being introduced, with huge benefits to productivity and employee motivation being reported.
Pursuit Marketing in Glasgow reported a 30% increase in employee productivity after switching 120 employees to a four-day work week.
63% of employees believe that the 8-hour work day will soon be dissolved.
35% of employees believe remote work provides higher quality employment opportunities.
Remote work is affecting real estate. More than half of home buyers who work remotely say remote work influenced a major home change.
73% of all departments will have remote workers by 2028.
Younger managers are 50% more likely to take advantage of freelancers to fill skill gaps within the company.
22% of women said that flexible work arrangement is a very important factor when considering a job, with women between the age 36 to 45 being most likely to do so.
34% of firms report that they expect to see various sizes of businesses choose flexible work locations over fixed term leasing contracts.
Is Flexible Work The New Normal?
More and more companies are leveraging flexible working hours as a key attractor, listing it in their reasons why future hires should consider working for them. This can be seen a lot among startups with the 'startup culture.' Now more than ever, employees are demanding for flexibility, and this will continue to increase, primarily driven not only by working parents and others seeking work-life balance, but also from the generations at either end of the spectrum. Please also refer to this guide if you want to learn how to successfully issue your own invoices.
Remote work statistics show the benefits of flexible work – from environmental to performance-oriented benchmarks. If you're interested to offer some kind of remote work within your company, we got you! Learn more about the different remote collaboration software and project management software that can help you transition to flexible work arrangements.
---
References:
4 Stats That Show How Flexible Work Options Contribute to Mental Well-being

The Ultimate List Of Remote Work Statistics – 2020 Edition

State of Remote Work 2017 | Owl Labs

Flexible workspace: benefits 2018 | Statista

U.S. economy: importance of flexibility in working times, by generation

THE CHANGING WORLD OF WORK

2019 State of Remote Work Report

Exclusive Insights on the State of Telecommuting | FlexJobs

Out of the Office: More People Are Working Remotely, Survey Finds – The New

EMPLOYEE JOB SATISFACTION AND ENGAGEMENT

The IWG Global Workplace Survey

State of Remote Work 2019 | Buffer

Analytics & Advice About Everything That Matters

The Benefits of Allowing Employees a Flexible Schedule

FlexJobs 2018 Annual Survey: Workers Believe a Flexible or Remote Job Can

A Business Owner's Guide to Flexible Work Arrangements | Zenefits

Global Talent Trends 2019

Flexible working trends: innovative ways to be a 'flexible' employer |

Remote Working Statistics 2020: 15 Exciting Trends – Remote Bliss

30-Minute Movers: How Home Shoppers Enable (or Eliminate) a Half-Hour Commute

Why Flexible Work Is No Longer Just a Generous Perk

The Workplace Revolution – a picture of flexible working – Magazine PH

Is flexible working destined to become the new norm? – Dynamic Business