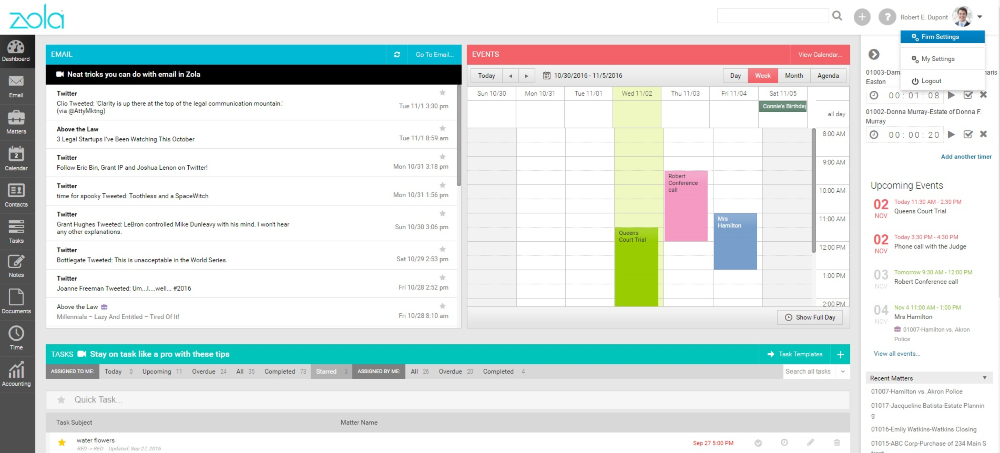 The main benefits of Zola Suite are its exceptional matter management, its document storage, and its calendar management tool.
Zola Suite is a boon to the law staff, lawyers, and legal firms for a number of reasons. One, it has an accessible and secure location where it stores crucial and sensitive client information. It can also be used to schedule courtroom appearances and meetings, track work hours, and capture and store personal data such as contact information.
Law practitioners and their clients will find it easy to be on the same page thanks to the matter management capability of Zola Suite. There is a singular location where all important information is stored, so retrieving it is a quick and efficient process. Sensitive data can also be kept secure simply by configuring and limiting who gains access to them.
Because Zola Suite stores in the cloud, there is no limit to its document storage.  Zola Suite also encourages collaboration as there is also no limit to the document versions that can be created. Email applications can also easily integrate with Zola Suite, which even attaches all communications to the relevant case files.
Organization is also maintained with Zola Suite's premium note features. Schedules and meetings are kept track of with the calendar management tool. The accounting and billing system is extensive, and is tailor-made for the requirements and needs of legal offices.