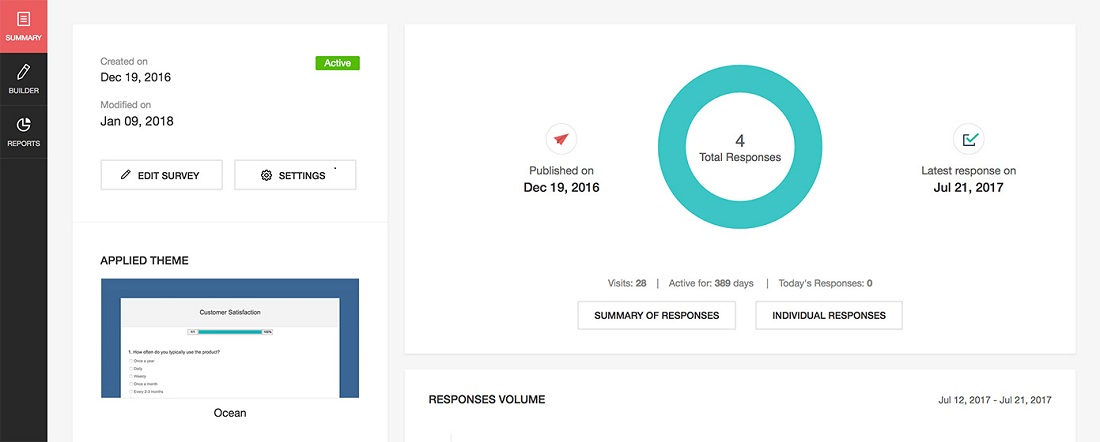 The main benefits of Zoho Survey are its capabilities that make survey creation & administration as well as sharing easy, mobile optimization, support to over 30 languages, and helpful integrations. Here are more details:
Survey Creation & Administration Made Easy
This survey tool is designed to help organizations and businesses create and administer surveys easily. Users can create and conduct surveys in a breeze with the use of any of the pre-built templates that the platform offers. If you have specific requirements, the platform also allows its users to produce a custom template.
Easy Sharing Capability
Zoho survey allows its users to share their materials anywhere. Whether you wish to host the questionnaires and surveys on your website or have them embedded in another domain, the software gives you the freedom to choose according to your preferences.
Mobile Optimization
Surveys created on Zoho Survey software are optimized for your mobile device. This allows your target participants to easily access your questionnaires and provide their answers even when they are on the go. Moreover, there is no need for internet connection in order to collect responses. The system can still acquire the survey responses even if it is offline or down and lets you upload it when the internet connection is back.
Multiple Languages Support and Helpful Integrations
The platform supports several different languages, eliminating geographical boundaries. The surveys you created can be translated to over 30 languages. The platform also offers integration with Zoho Campaigns and Mail Chimp which enables users to send surveys through email.