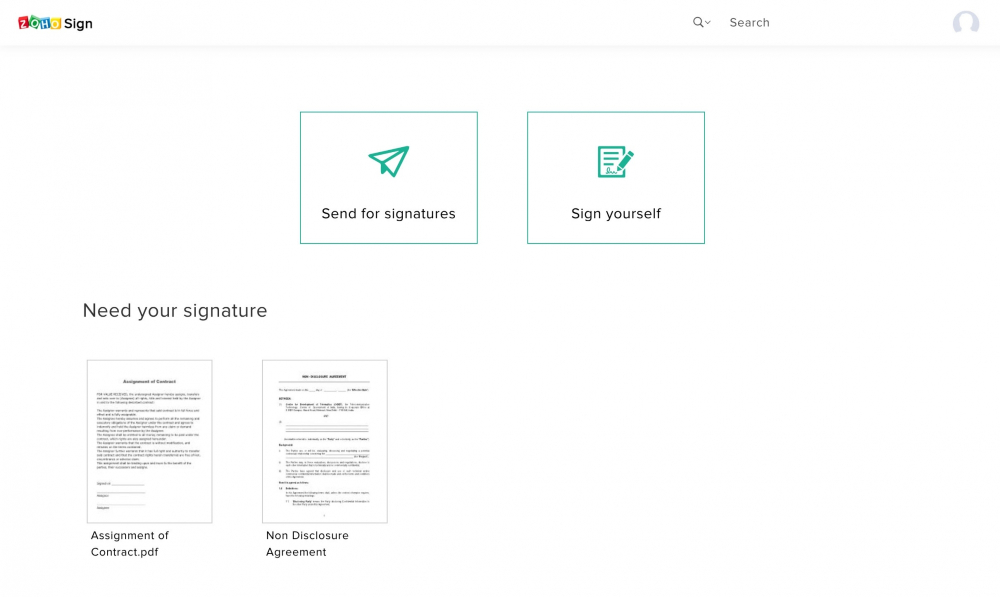 The main benefits of Zoho Sign include document-signing customization, its ability to streamline signing workflows, and its use of public key cryptography.
With Zoho Sign, users are provided with tools that allow them to customize documents so they fit their needs. They can sign and send independent contracts, proposals, purchase orders, company policies, rental agreements, non-disclosure agreements, and a host of other documents.
Templates can be personalized and saved for future use and reuse. Brand imagery, such as logos, can also be incorporated. Multiple documents can also be signed and set at the same time, saving users time. Expiration dates can be set on documents, with accompanying notifications, so recipients do not overlook them.
Users can avoid errors and save time with Zoho Sign, as the app streamlines normally tedious manual processes. Multiple recipients can be added to a document so response times are quicker and signing orders can also be set up.
Documents can also be checked using the document viewer and the app's preview function lets users add emails and recipients. Documents can be downloaded and printed and the drag-and-drop capability allows users to move around fields and jump to a specific page.
Digital signatures are kept legal and secure thanks to the public key cryptography that is the basis of the Zoho Sign technology. Because of the app's basis on PKI, users can expect bank-level security when it comes to the protection and encryption of their documents. AES-256 encryption protects documents when at rest while SSL encryption safeguards them when in transit.
Users can also determine who has access to which documents and what actions they can do on those documents. Audit trails keep track of any changes in the document and how the signature process is moving along. The multi-factor authentication features also ensure that the intended recipients receive the correct documents. 
Users of Zoho Sign have complete control over their documents, ensuring that they stay on top of any changes made. Users can also communicate with recipients through the private and group messaging function provided by the app, or they can also leave a note on the document.
Zoho Sign sends notifications to users as soon as recipients view, sign, decline, or complete a document. The app also sends recipients a reminder in case a document that needs to be signed is overlooked.