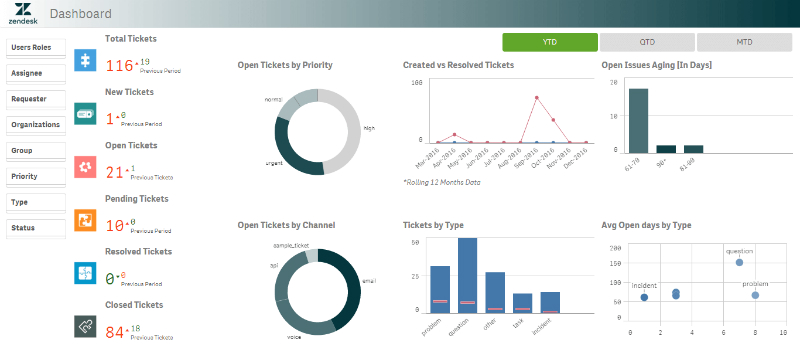 Scale Your Customer Support
Zendesk is a full-featured suite of support applications which you can scale to meet your growing business needs. You can manage it as an end-to-end platform, structuring the help desk, call center, live chat, community portal, and knowledge base modules. Or, you can begin with the main support application and develop your support structure as per your budget.
The main support module offers the Lite edition of chat, knowledge base, and call center. These add-ons are offered free so that your help desk starts with industry-class features. Zendesk's pricing schemes lend scalability and reliability to your support and cash flow availability.
Get Deep Insights
Zendesk Insights is a sophisticated reporting tool that comes with the Plus and Enterprise packages. It enables you to perform customized and deep analysis of KPIs. Use these reports to analyze a specific customer segment like VIP clients, or particular demographic groups based on variables such as satisfaction rate, age, or location.
Zendesk Insights helps you to determine key performance areas and identify issues. It facilitates detailed analysis by using custom fields on organizations, users, and tickets. Plus, it has the capability to create dashboards, reports, and metrics based on contextual and relevant data. The export feature is important for executive reporting.
Other Benefits
Zendesk setup and implementation is fast and easy. You can utilize it to improve the quality of your customer engagement. Plus, you can support your customers via multiple communication channels including chat, email, web, and social media.
Zendesk reviews indicate that the software suite enables users to enhance support team morale and productivity. The platform offers advanced analytics and robust reporting including more than 20 ready-to-use dashboards and reports.
The best part is Zendesk doesn't require any training and it is simple to onboard new support agents. Use the product's open API to seamlessly integrate it with your existing business solutions. Finally, you get world class support from the vendor's team of knowledgeable and helpful customer advocates. You can read this Zendesk review for more details on the software's capabilities.