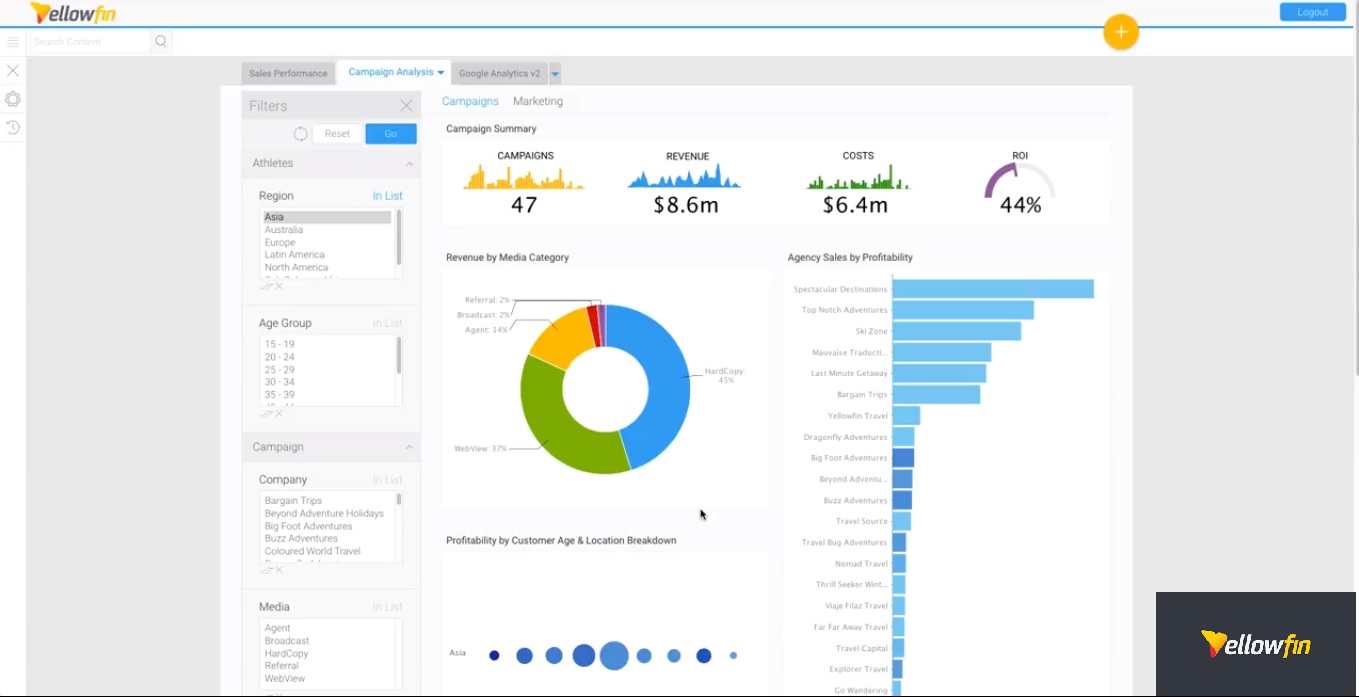 The main benefits of Yellowfin are its end-to-end BI solution, easy user adoption, and more profound business insights. Here are the specifics:
End-to-End BI Solution
Yellowfin uses BI stack to help you on multiple data analytics issues. It offers the needed tools for data collaboration, gaining insights, and transformation and is equipped with powerful enterprise governance features so you can use BI with fine-grained security.
Easy User Adoption
Since Yellowfin is a single integrated solution, users can deploy it in the cloud or on-premise, allowing them to use the software's tools to match their organization's set up.
Comprehensive Analytics Result
The software has a fully integrated presentation module called Storyboard that tells you stories and relays the significance of data insights. It lets you share presentations, use custom texts, videos, and images, and combine interactive and live reports. Besides mobile capability, it also enables you to give feedback and bookmark contents.
More Profound Business Insights
Yellowfin offers automated assistance by combining machine learning and human insights. There's no need to dig through data to find what you're looking for, as Yellowfin does it all for you.
Data Transparency
Yellowfin is designed to support all types of dashboards such as analytical, strategic, and operational. Analytical dashboard streamlines data exploration, the strategic dashboard showcases different data sources with KPIs and summary reports, and an operational dashboard lets you access and comprehend data in real time.
Data Visualization
Without needed coding skills, you can see and explore data with the solution's advanced visualization. It contains more than 50 chart types like infographics, trellis charts, and GIS maps so you can understand your business in real time. Data discovery helps you explore and discover insights and spot trends, outliers, and patterns.