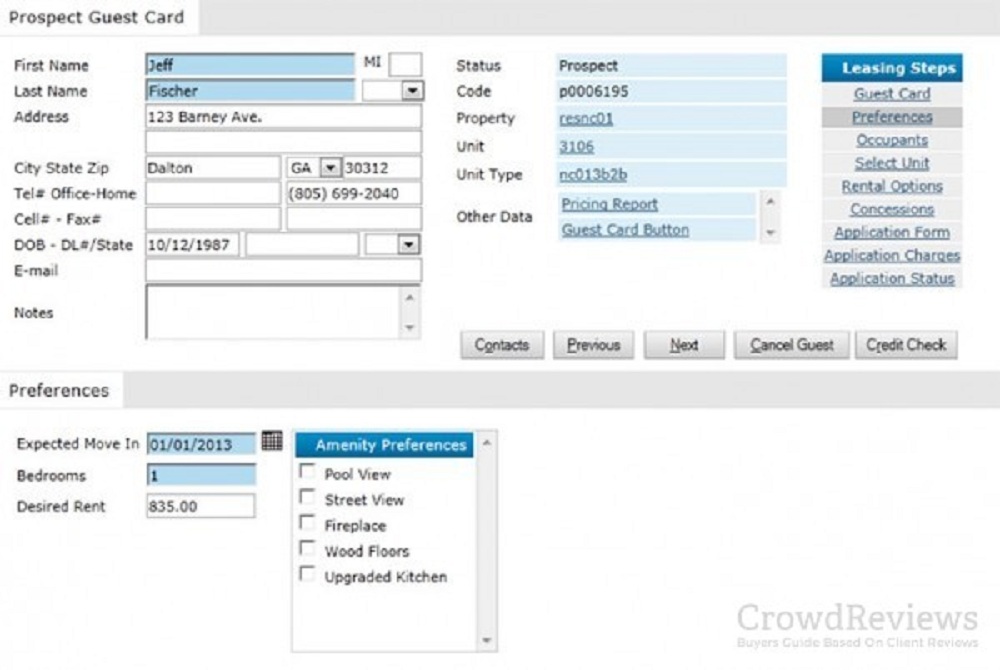 The main benefits of Yardi Voyager are centralizing tasks and data, automating workflows, setting notifications for deadlines, schedules, and important tasks, boosting business intelligence, and leveraging accounting. Here are the details:
Single Database
A single, centralized database allows users to access all information related to their business, properties, tenants, transactions, and accounting processes anytime, anywhere. Hence, it saves them time, increases their productivity, and lets them focus more on areas that drive the business.
Automate Workflows
Yardi has the capability to automate business workflows. For example, staff can seamlessly process their property's move-outs and move-ins, perform accounting tasks, set up new leases quickly, and more.
Lease Administration
This feature enables users to organize all lease terms and tenant information in one place, making lease tracking easier and seamless. Moreover, as the user tracks leases, they can also process receivables in an instant. Plus, Yardi provides dashboards that help streamline business lease management.
Real-time Notifications
Yardi Voyager allows users to choose which deadlines will trigger automated notifications and which tasks can be accessed on the dashboards. Notifications are being sent via email so no important due dates will be missed.
Accounting System
Each Yardi Voyager software solution features an accounting system that enables accounting teams to use generally accepted principles in accounting. The accounting system allows users to create account trees and multiple books, record the financial transactions through intercompany or segmented accounting, and more.
Flexible and fast analytics engine
The analytics engine allows businesses to acquire financial and property data and metrics in real time, giving them valuable insights that can be used in making crucial business decisions. Interestingly, it also allows users to set their own KPIs.
Document Management
This system allows users to store and process documents efficiently. It enables users to customize documents, create forms, reports, and correspondence. It also comes with templates that can be combined with the documents that users have.
Mobile friendly
The platform delivers mobile solutions and applications that allow users to process applications, track leases, communicate with their clients and vendors and perform other tasks while they are on the go.
Extensible Architecture
Users can extend the platform's core features as well as capabilities by integrating it with other Yardi software products.