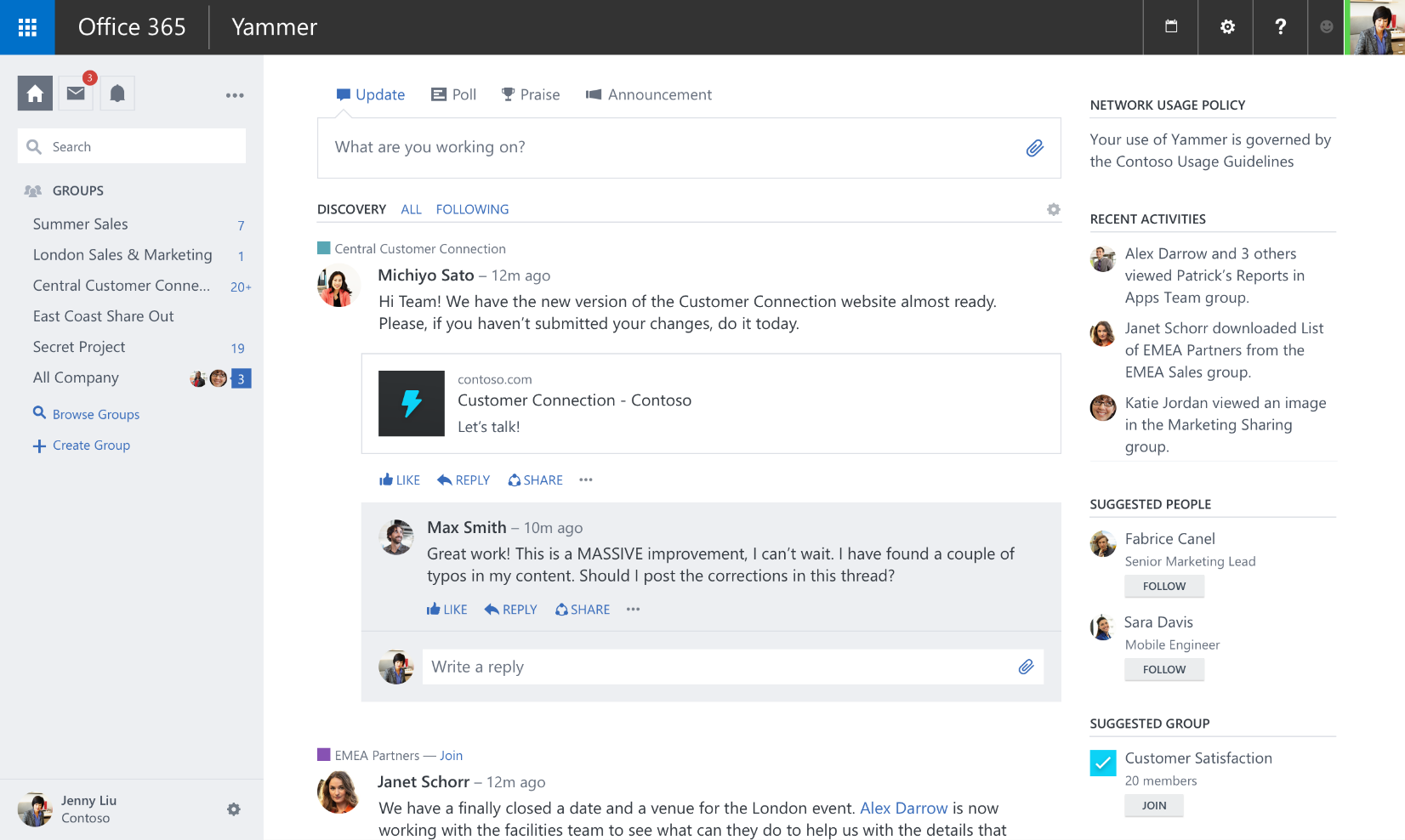 The main benefits of Yammer are nurturing teamwork, capturing best practices and generally increasing workplace productivity. Here are its benefits in detail:
Promote collaboration in your company
When employees can easily get into the discussion and are kept in the loop, chances are they are more receptive to share ideas and opinion. Yammer provides a centralized platform that anyone in the organization can access (permission-based) from any device. The software supports popular platforms such as Windows, Mac, Android, and iOS. That means location and time are less of an obstacle to collaborate–team members using their smartphone or laptop can meet anytime, anywhere.
Make smarter decisions
Collaboration breeds sharing of ideas and experiences. It lets you capture the best practices in the various aspects of running your organization, such as in operations, project management or management. As you build a knowledge bank culled from your employees' experience and insights you tend to make smarter and evidence-based decisions.
Likewise, this knowledge bank is centralized, that is, any vested party can access it where necessary. Yammer also features analytics that lets you pull reports for insights or updates. The reports can also tap into a database of historical conversations stored in the software's database.
Increase productivity
Corrolary to teamwork and smart decisions is the tendency to increase workplace productivity. When collaboration is nurtured, employees feel empowered, thus, they tend to work with more passion and sense of ownership. The result can only be an improvement in overall organizational productivity.
Secure workspace
Yammer assures users that its social networking platform is private and your confidential data is protected from spying eyes. It has permission-based rules that shun off unauthorized access, whether perpetrated by outsiders or insiders.