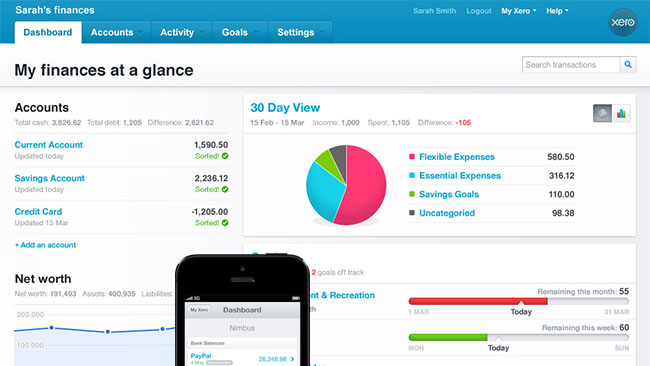 What benefits can you expect by subscribing to Xero? In short, Xero is an efficient accounting management solution that you can customize to work with your company's rules and priorities. Plus, it can help you to manage your finances and budgets according to your enterprise's goals and objectives.
Effortless setup
In our Xero reviews, we found out that a major advantage is you don't need complex trainings and overtimes to launch and use Xero. The product simplifies tedious financial operations and enables you to save the time spent working on voluminous records. Once you enter data into the system, you can govern all contacts and transactions from the same page.
Xero enables you to edit on the go which facilitates accurate and fast transacting anytime. The good thing is you can enjoy this advantage without needing to shell out recurring fees or buy costly add-ons. If you want fast accounting, make use of the Express Setup feature. To help you make effective use of the software, the Help Center provides the needed support including for tasks such as how to add users, connect your bank feeds, and insert data in the chart of accounts.
The dashboard displays all the essential information and here you can track your company's billing and invoices, and use fancy charts to compare finances. Plus, you can directly access all the important action sections of your financial management. There are seven tabs in total and the most important one is the Settings tab where you can adjust financial settings and add corporate info. The Accounts menu is another vital tab and here you can find and alter expense claims, bank accounts, and checks, and generate records for your payroll requirements.
Simplified transactions
Xero is easy to configure and offers simple transaction forms. You can edit all purchase files
quickly and make use of readymade templates if you don't wish to create custom ones. Simply open the template and select the data fields you need to personalize the documents.
A major highlight of Xero is reliable security as the application uses two-factor authentication and multiple-approval model to minimize the risk of financial fraud. For each transaction, there is a detailed list of performed actions including users, dates, and manual notes.  This system enables you to manage your sales process, control purchase orders, and classify invoices in the categories of drafted, approval awaited, payment awaited, and delayed.