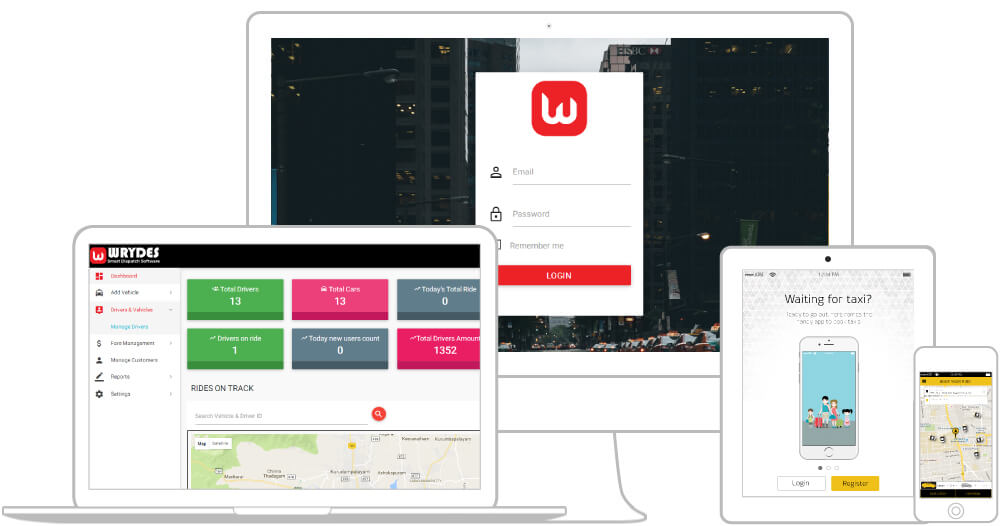 Wrydes offers white labeled mobile taxi applications. You can utilize them to improve customer loyalty and brand recognition, and boost revenue channels. The solution is ideal for limo, taxi, and delivery services.
How does it work?
Customers simply need to request a taxi and it will be sent to the nearest available drivers. If a driver is not interested, then the request is dispatched to another driver. If he accepts, the passenger is notified. After the ride, the customer can provide feedback so that other users can benefit from their experience.
What are the key benefits of Wrydes? To start you can simply book a taxi with your mobile phone. Drivers will pick up your request quickly on their phone. The app is user friendly with helpful features and you can make payment easily after the ride.
What's in it for taxi drivers? Drivers can register using the app and create their personal profiles. They can display their price rate per mile. Plus, they have the choice of accepting or declining a request. Drivers can view the location of the customer on a map and can also check the history of accepted customers. They can easily respond to requests for rides.
What's in it for customers? They can register and login using their Facebook or Gmail id. Plus, they can get info on all nearby drivers and check their individual profiles. They can put in a request to a single driver or to all nearest drivers. Customers have the option of sharing a ride and they can get estimated costs based on their pickup and drop locations.
Our Wrydes reviews confirm that other advantage of this solution is that customers can easily make the payment after their request is accepted. They can also view their drive route and drive history. Finally, they can provide driver reviews and make complaints if they are not happy with the experience.