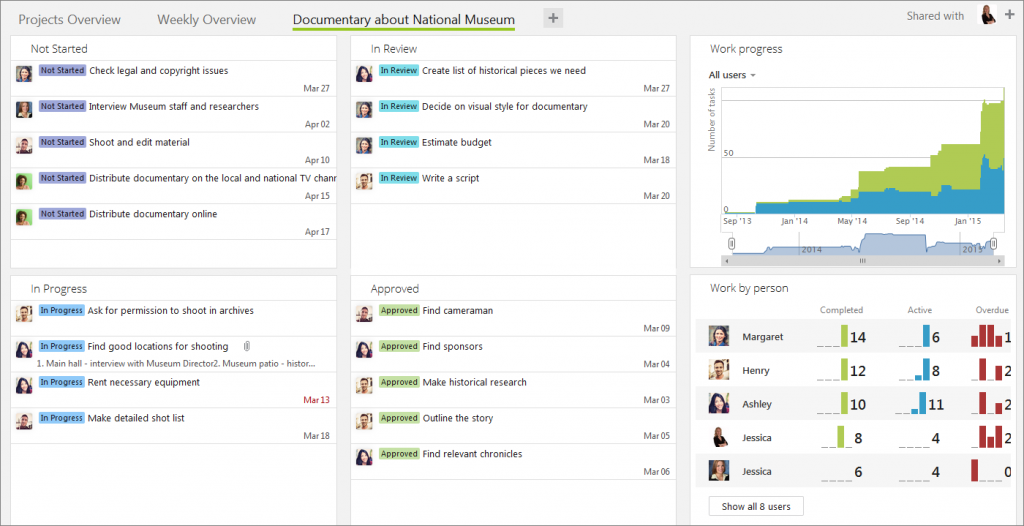 The main benefits of Wrike are eliminating costs from missing files, accelerating production cycles, automating workflows, and improving team collaboration. Here are Wrike's Digital Asset Management benefits:
Eliminating costs from missing files
As your digital assets and data grow, the chance of losing and misplacing them also goes up. Wrike prevents losing the data by establishing a consolidated platform to keep and oversee them in cloud-based storage. Role-based access control assures that data is on a need-to-know basis. The cloud storage also ensures that data is secure from any danger, and can always be accessed through any internet-connected device.
Accelerating production cycles
In one place, you can trace all things related to a task or project. Setting up image and videos review is optimized through easy file attachment sourced from cloud storage apps like Box, Dropbox, and Google. Approvals and proofing allow you to immediately drop comments on videos, PDFs, and images. The tool also has an online file editing tool that can further optimize work time by removing the need to download the files to edit them.
Automating workflows
Projects, folders, tasks, and subtasks are the essential backbone of your business workflows. The organization allows you to further simplify large tasks into smaller steps that you can assign deadlines and add files to. There is also the Dynamic Requests Forms, which is an automated system that assigns tasks to teams to boost efficiency and perform project volume scaling. Moreover, the file management tool allows you to edit and share documents, work together, and see changes happen by the second even if the file is not stored locally in your computer.
Improving team collaboration
With a consolidated digital asset authority, business teams assisted with Wrike are able to efficiently conduct collaborative work. Optimize the feedback and approval processes with total info disclosure. Reaching other workmates is optimized through messages directly composed in the workspace. With email and calendar synchronization, users can smoothly send emails to Wrike where they would be automatically transformed into tasks.