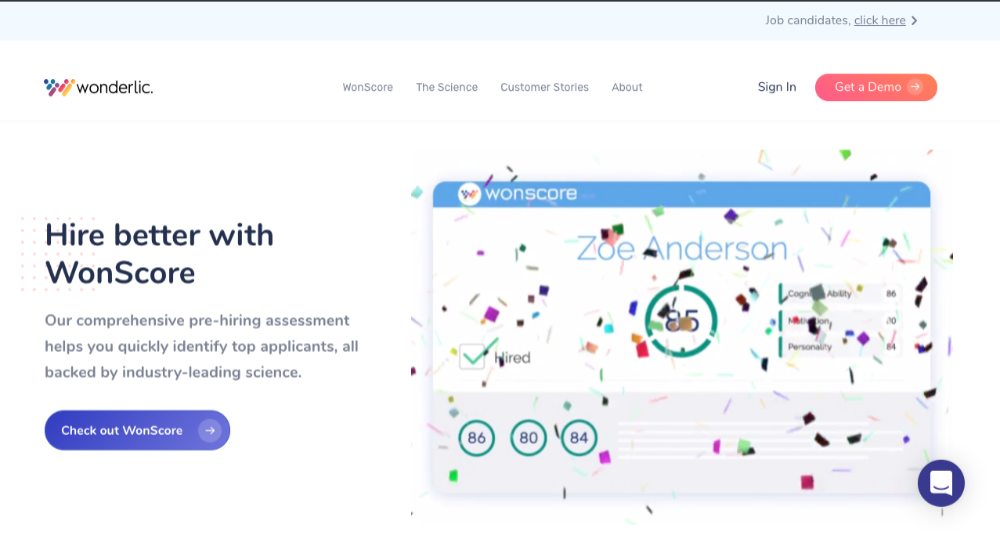 The main benefits of WonScore by Wonderlic are pre-hiring assessment criteria, fair decision-making, applicant fit predictions and analytics, and automatic stack ranking. Here are more details on WonScore by Wonderlic's benefits:
Pre-hiring Assessment Criteria
WonScore by Wonderlic has a pre-assessment tool that uses three criteria to base decisions on motivation levels, cognitive skills, and personality traits. These criteria will help you analyze who among the applicants fit your job opening description, your work environment, and your company's ethical code.
Fair Decision-Making
Using WonScore helps avoid bias and ensures that applicants will be hired based on merit. This helps you choose the right applicant for the job and aid you in making smart and fair decisions free from any kind of discrimination.
Applicant Fit Predictions and Analytics
WonScore uses data science and integrates it with the app's AI Scientist to tailor results that fit your company's specific job openings. The main benefit of an automated shortlisting process is that you can save time by avoiding unnecessary interviews or reading stacks and stacks of resumes that don't actually fit the position's requirements.
Automatic Stack Ranking
Speaking of stacks, WonScore's Automatic Stack Ranking allows you to compare the top-performing applicants' candidates side-by-side. Choosing the best employee for the job can be confusing, but the application's automated compare-and-contrast chart for candidates lets you see and choose the best among the best. It's essential to conduct HR software research to determine which features your organization needs.