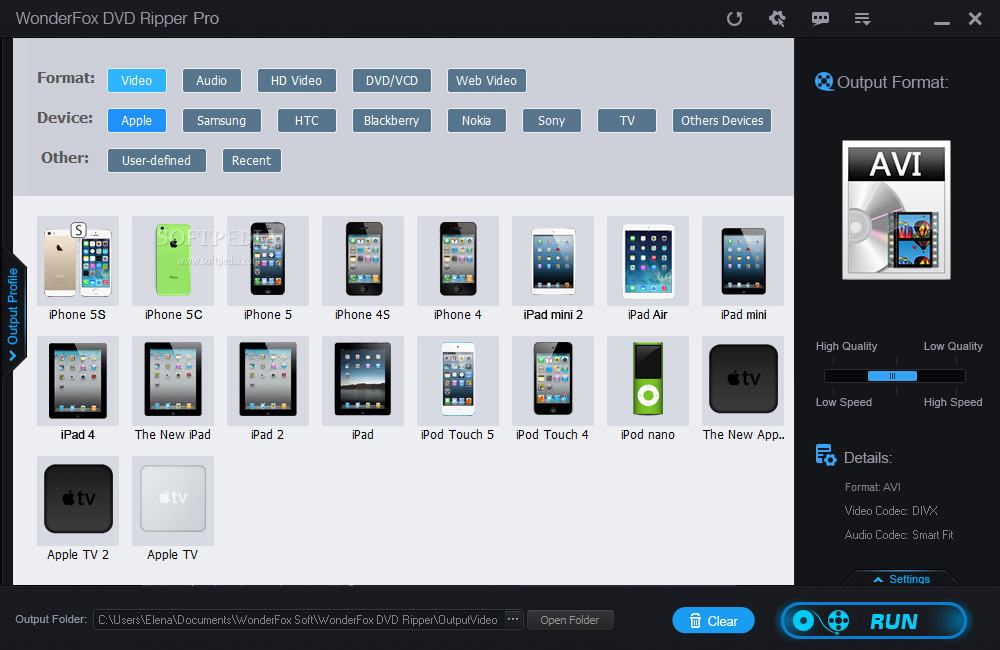 Why should you opt for WonderFox DVD Ripper Pro over other rippers in the market?
To start with, you need to choose an output profile when you rip something from a DVD.
WonderFox DVD Ripper Pro provides more than 250 output profiles in its library. You can easily copy DVD to PC into a basic format such as M4V, MPG, MKV, MOV, MP4, and others. In fact, the software offers 19 formats for you to select from.
Another advantage is you can select a profile for your specific device to optimize the DVD rip playback on the device. You get more than 150 options for tablets and smartphones from popular devices to relatively obscure models. This enables you to convert the DVD rip for optimal playback on any device.
In addition to tablets and smartphones, you get output profiles for gaming products such as Nintendo's Wii, Sony's PlayStation, and Microsoft's Xbox. This enables you to back up your programs and watch them on your gaming platform. In addition, you get profiles for popular television brands such as Vizio, Sharp, Mitsubishi, Panasonic, and Toshiba. In fact, WonderFox DVD Ripper Pro offers one of the most comprehensive output profile libraries in the market.
A major highlight is the product's excellent customization tools. You can add fun filters, crop the frame, and remove unwanted footage from the movie before you rip it. On top of that, you can easily tweak technical elements of the video such as bit rate, frame rate, and resolution. Another benefit is you can adjust the conversion quality if you want to reduce the time taken to rip the movie from the DVD.
Though the product is easy to use, you may still need help at times. The vendor offers a comprehensive help section on their website that includes a knowledge base of how-to guides and FAQs. In addition, you can submit an email ticket or contact agents via live chat if you need further assistance.
In short, WonderFox DVD Ripper Pro is one of the best choices because of its simple interface and wide array of ripping tools. You can utilize this software to rip movies and other programs from DVDs and convert them into a suitable format for delightful viewing on any device you own.