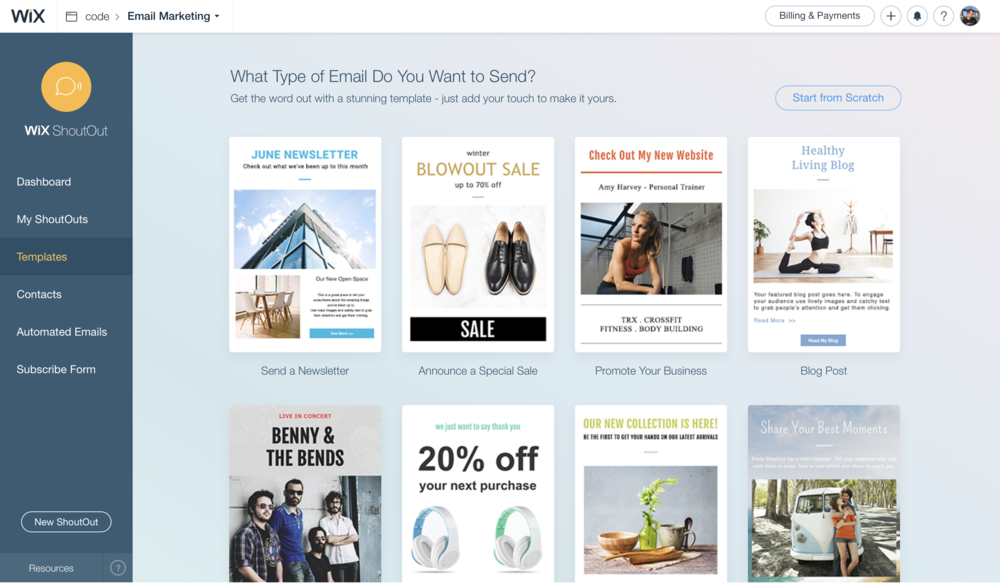 The main benefits of Wix ShoutOut are letting you personalize emails, enabling you to build your mailing list, and allowing you to push content on social media. Here are more details on these benefits:
Personalized Emails
Wix ShoutOut allows its users to create newsletters and marketing emails from scratch so they can customize the look and feel of the interface and make it consistent with their branding. The application also offers numerous customizable templates for those who are looking for some inspiration, allowing them to be artistic while saving time.
Subscriber Base Build-up
One of the keys to reaching more people online is convincing new recipients and website visitors to sign up and subscribe to get regular updates from the company. To that end, Wix ShoutOut incorporates a customizable signup form that can be edited so that businesses can ask for relevant information.
Contacts Management
Wix ShoutOut allows users to build their own subscriber list with ease. The app seamlessly connects with contact management solutions in order to import data, including email addresses, to the app's system. The app also supports grouping of marketing emails into organized mailing lists, allowing ease of sending targeted emails.
Social Media Sharing Tools
Wix ShoutOut allows businesses to share their beautiful emails on social media platforms such as Pinterest, Twitter, and Facebook. As a result, even members of the target audience who choose not to subscribe will still be updated with the latest announcement, products, and promotions.
Email Statistics
Wix ShoutOut has a stats tracker that helps businesses see the number of clicks and views of individual emails or all sent emails. Hence, understanding the efficiency of their campaigns is easier.
Responsive Emails
Emails work on screens of all sizes. Businesses, therefore, are guaranteed that the recipient can view the email no matter what gadget they are using.