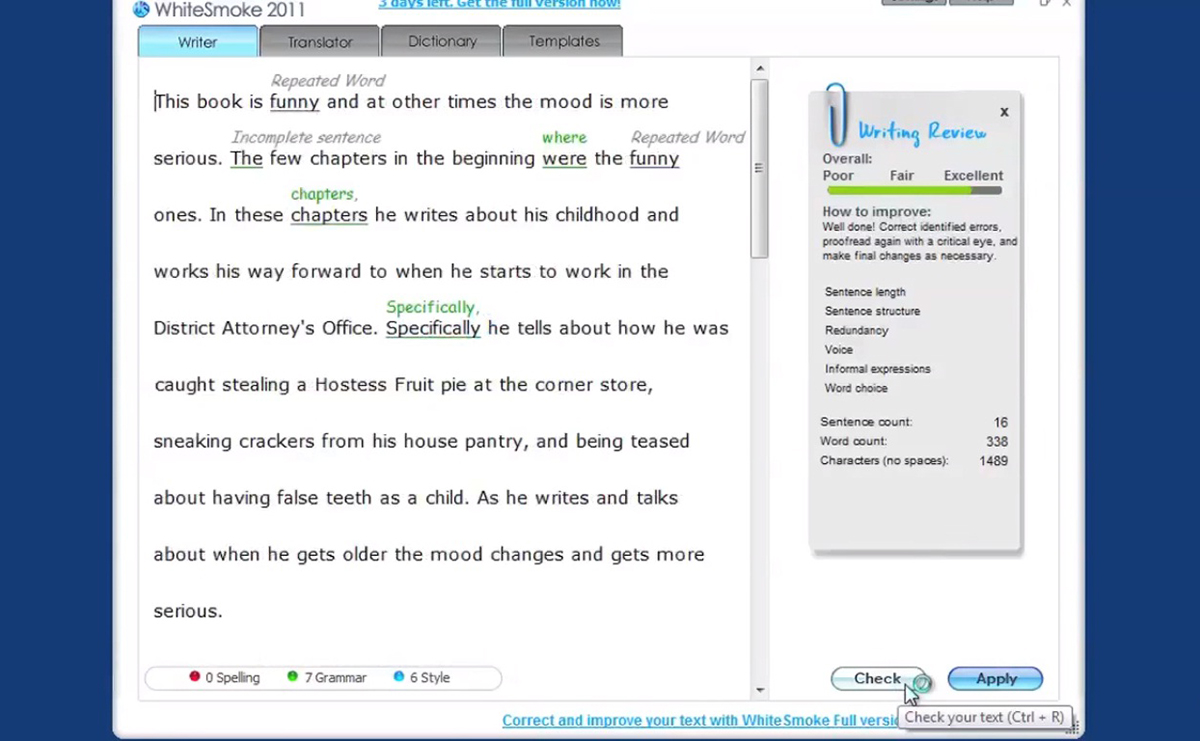 The main benefits of WhiteSmoke are supporting various devices, providing corrections on your web browser, offering pre-made templates, and providing tutorials. Read below for more information on WhiteSmoke benefits:
Premium Software for Desktops
The software works on Windows PCs and MacBooks. It is integrated with programs for word processing to detect and correct English writing mistakes. Though its advanced grammar, punctuation, spelling, and writing style checker, you can have peace of mind that your write-up is error-free, be it a professional or academic content. This is capability is made possible by its innovative algorithms.
Web-Based English Corrector
Even if you are writing on browsers, you are still provided with corrections using this software. This means you can save enough time from manual copy-pasting techniques using other text editing programs. It even allows you to send or post your write-ups on the web.
Mobile- Friendly Application
As a native app, WhiteSmoke is also available for Android and iOS users. This gives you the chance to correct your text mistakes using your mobile device from anywhere, anytime. Its new-fangled interface lets users view tex errors and review the provided suggestions before modifying the original contents. Furthermore, the Pro version of the app comes with a translator with over 50 languages available, allowing you to learn new languages on the go.
Pre-Made Templates
There are over 100 ready-made templates available for letters and documents on WhiteSmoke. This means you don't need to go anywhere else to look for appropriate document formats because the software has everything ready for you.
Tutorials
The software does not just provide advanced English mistake detector and corrector; it also offers error explanation and video tutorials to users so they can further comprehend why the software corrects such errors. This capability gives users deeper understating and additional knowledge about the English language, which they can confidently use on their future write-ups.