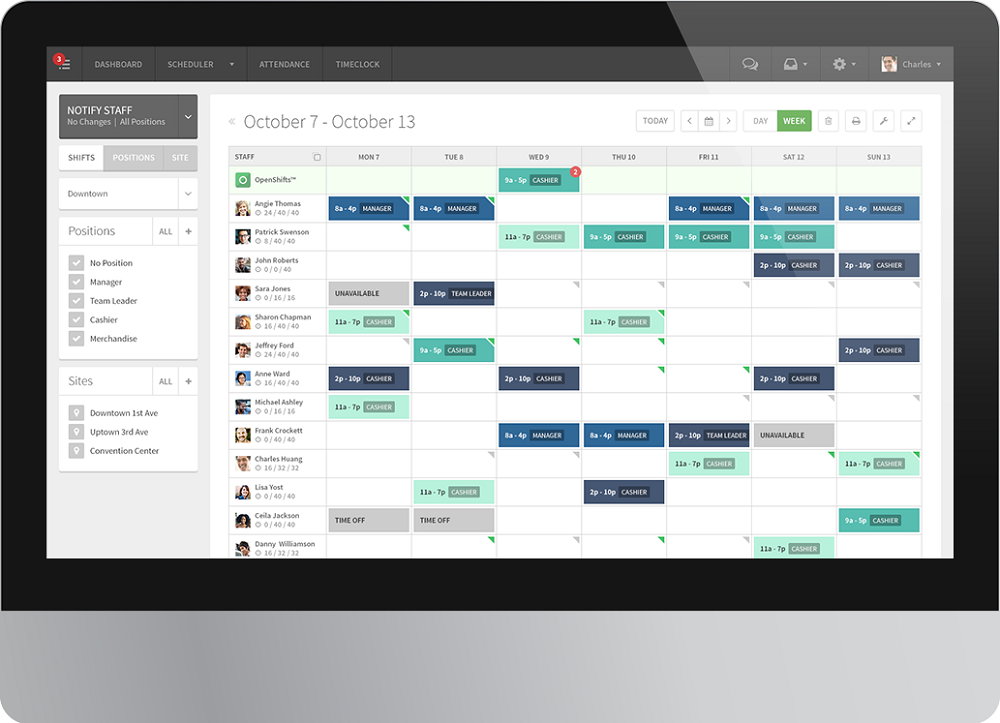 The main benefits of this solution according to When I Work review are its schedule organizer, mobile and geo check-in, push alerts, reporting capabilities, and its highly-customizable interface. Here are more details:
Manage schedules
The system simplifies and streamlines scheduling process for the employers. An entire week's worth of schedule can be created in a span of a few minutes since all important employee data such as scheduled and preferred time off is already given. You can easily create schedules for weeks or even for months and employees are notified instantly when they're available or when there are some changes in their schedules.
Mobile clock in
Employees can utilize their mobile devices like laptops, tablets, and smartphones to check-in for their work. This helps keep accountability for each employee no matter what the nature of their job is. This is also an ideal method for establishments that have field workers such as catering and construction businesses. Also, to avoid discrepancies by checking in early, the system features a lock function. This prevents employees from checking in until the right time has come.
GeoCheckin
GeoCheckin is a feature that utilizes live map views and GPS tracking functions to ensure that employees are checking in from the designated job sites. With this feature, you will be able to track your workers' location in real time, which effectively eliminates the need to message them concerning their current location. This is an ideal tool for businesses in the restaurant, retail, hospitality, and other related industries. It is also an optimal solution for businesses that hire employees with hourly rates because of the high accessibility and mobility it provides.
Push notifications
The system helps your employees not miss a clock in through email and text attendance alerts and notifications. Push alerts are used for sending messages to all employees instantly. This is especially useful for notifying workers when new schedules become available and for ensuring that each of them receives an update when it occurs.
Reporting features
There are also various reporting related functionalities in When I Work that empower you to track and review data about employee attendance. The interface is simplified and intuitive, making it easier to detect points of trouble that might cause bigger problems in the future. This way, remedial actions can be done immediately. There are also several helpful metrics for supervisors, store managers, and general managers.
Customizable
There are different pricing schemes offered for different business sizes. A plan can be created that is specifically tailored to your business needs. There are also several options for boosting and customizing selected features. Access can be configured that lets you decide which people can see dashboards and individual schedules.