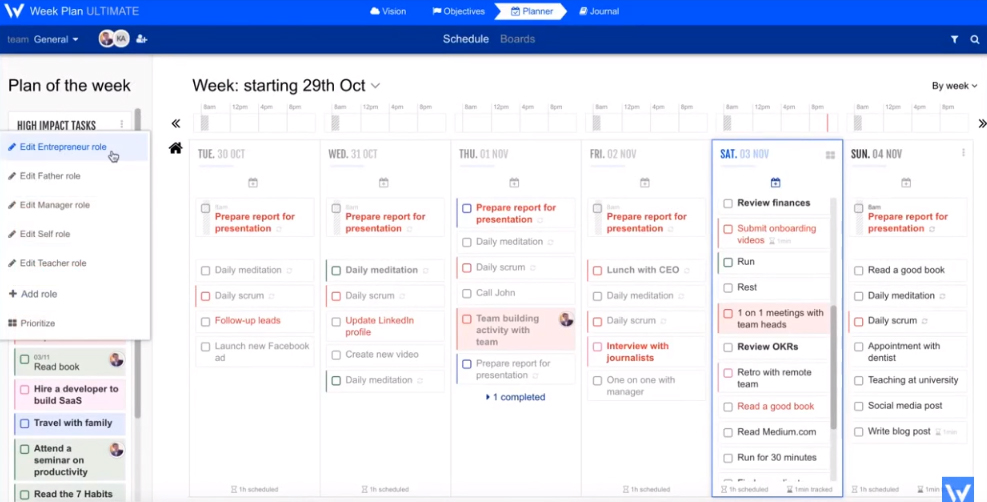 The benefits of Week Plan are, it operates on the premise of priority planning, which provides you with the benefit of learning about techniques in managing not only your time but also your tasks and priorities using the appropriate tools. Here are more details:
Weekly Task Manager
This feature offers a complete task scheduling process ideal for a team. Managers and employers are also given complete visibility over their teams' schedule and tasks. This overview capability is necessary when it comes to monitoring the team's progress and if there are issues in the process of achieving the goals set.
Team Calendar
This tool allows you to see your team's daily, weekly, and/or monthly schedule in one view. This way, you will see which time frame has a hectic schedule, who are the teammates involved, and if more teammates are necessary or can be delegated to other urgent tasks. You can also set repetitive tasks to be on recurring status, etc.
Time Tracking
Week Plan is integrated with Pomodoro timer, which helps in keeping you focused on tasks at hand and, at the same time, encourages you to take breaks. Another tool used for time tracking is the Day Summary, which lets you get a glance of your and your team's to-do list for the day.
Task and Subtask
You can create tasks for the day and the rest of the week using this feature. If there is an uncompleted task, it will be automatically rolled over to the next day. You can also attach files to tasks.
OKRs
This tool is used to set up objectives and goals with associated key results achievable on different timeframes including daily and weekly.