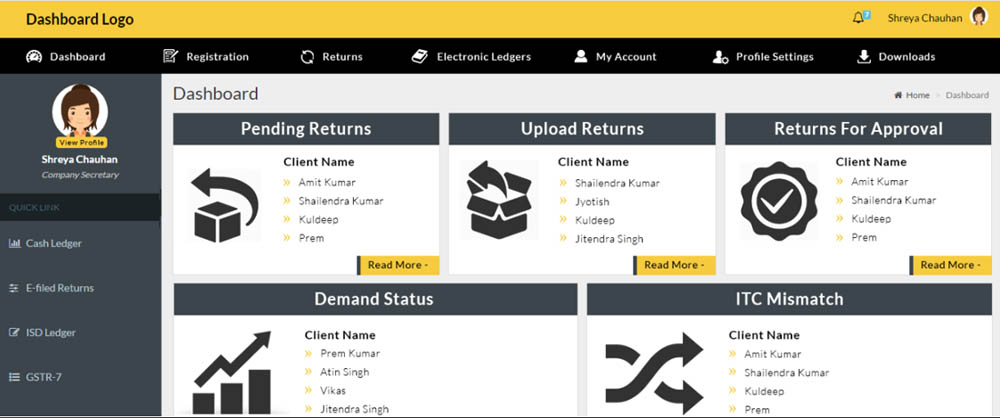 Learning/Training
Webtel WEB GST eLearning solution provides convenient and comprehensive education in GST law and procedures. The methodology, content, and delivery are easy to understand and effective.
Consulting
You need to perform an impact analysis on the profitability of your client to decide whether any change is needed in business structuring. Webtel's GST Impact Calculator can help you do basic calculations. Plus, you can view and analyze transitional provisions, working capital assessment, and transaction structuring.
Accounting Integration
Actual implementation of GST begins with making changes in the accounting System. Changes in accounting include: updating GSTIN of suppliers/buyers in accounting master, coding tax nomenclatures i.e. CGST, SGST, IGST, UTGST and cess etc., soft/hard coding the rate of taxes, describing HSN codes for different items, other necessary changes in reports, and setting output file structure for integration/absorption by GST return preparation utilities.
Different companies use different accounting solutions such as like Tally, SAP, JdEdward, Xapta, and other ERPs. Primarily the changes in the accounting systems will be made by the provider of these software products.
Webtel has middleware/connections to pull data in defined structure from any of these software apps. In the case of applications such as Busy and Tally, Webtel has already done end to end integration so there is no need for any connector/middleware. To avoid any hassles during GST implementation, it is important to take precautions and perform disciplined accounting instead of simple accounting.
Compliance
Companies might need to set up a separate compliance team for GST considering that a minimum of three returns need to be filed every month on different dates. You need to do tasks such as calculating net tax liability, adjusting input tax credit on advances, etc., reconciling input tax credit on inward and outward supplies, and more. To manage all these tasks and processes, WEB GST is an ideal tool as it offers many unique and useful features.