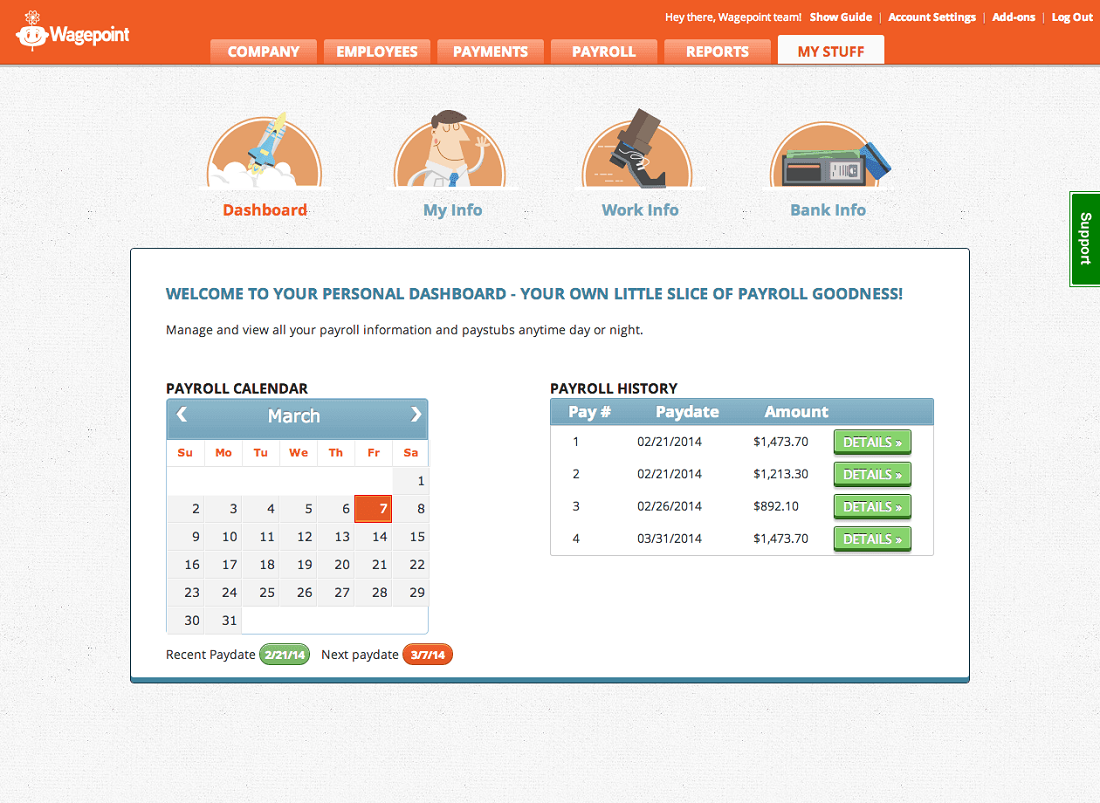 The main benefits of Wagepoint are its user-friendly operation, fast payment for employees, access to various documents by staff, auto-approve functionality, ticketing support for customer service,  security features, and compliance to regulations. Here are more details:
Easy to set up and use
The system is easy and fast to set up and use. It can be operated on Macs and PCs alike and users won't have to think of fees for contracts, maintenance, and set up. Furthermore, companies with over 10 employees can switch from other payroll application to this for free.
Quick payroll solution
Wagepoint empowers employers to pay hourly rate staffs, salaried employees, and contractors all at once. There is also an option for adding various pay groups, which are handy for payrolls with multiple frequencies.
Document access for employees
With Wagepoint, the need to re-print lost pay slips, forms, etc. of employees is eliminated because users can simply provide them access to personal information. There, they'll be able to view the data they wanted or independently replace lost documents if they needed to.
Auto-approve feature
If the people managing the payroll need to be away for some time, to be on vacation, for example, they will be able to do so because Wagepoint has an auto-approve feature. All they have to do is to set payroll up and then let it run by itself. This is only possible, however, if payroll doesn't often change.
Ticketing support
If users got themselves some queries, they can use the system's floating Support tab. This gives them access to Wagepoint's knowledge base or it can be used to send a support ticket. Currently, the system boasts a 95% satisfaction rating on customer service.
Secure
The application's servers are being hosted in Amazon cloud which gives it the ability to support international expansion. Not only that, but this also provides the system with great reliability and security. Wagepoint also utilizes 256-bit SSL encryption which offers security and protection of data from hackers. The system is safe from leakage as well because, without users' permission, no information is going to be shared with other applications.
Tax regulations compliant
The system is capable of managing a wide range of reporting tasks and tax compliance throughout the entire jurisdiction levels such as local taxes, online payment stubs, 1099s in US dollars and other currencies.