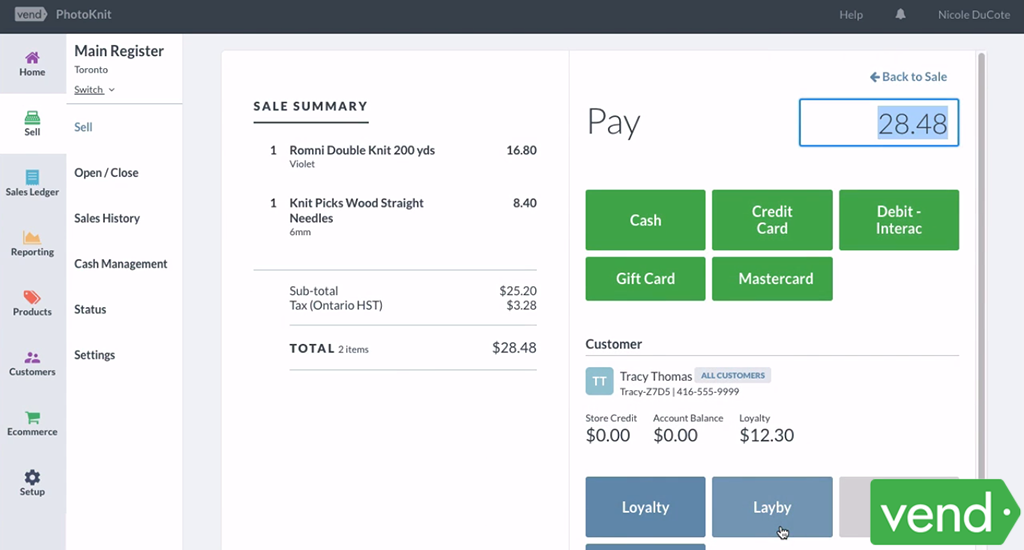 The main benefits of Vend are its stable functionalities, mobile support  and ease of use.  Here are the specifics:
Cloud POS
Vend's powerful POS system can be used on your iPad, on your Mac, and PC. This is because of its cloud-based nature. In this way, you can access your information anywhere and rest assured that your data will stay updated and saved even when you lose your internet connection or your device. In case you lose your connection, Vend will automatically sync once your connection reestablishes.
There are other useful functions within Vend but all are packaged into an easy-to-use and intuitive user interface. Operating the software requires little training. You and your staff can add notes and discounts to inventory items or even your entire inventory in minutes and append them to customers' receipts as well.
eCommerce
If you operate an online store, Vend makes it easier. If you do not have one yet and wish to put up one, Vend's easy setup will make it hassle-free. The Vend interface is very intuitive and you can edit your website and online presence in no time. This makes it easier for your customers to purchase from you as they can just do it from their devices. You also do not have to track and encode orders manually. Vend does all these for you. It maintains your stocks and notifies you when you get new orders.
Process Payment 
The eCommerce feature allows your customers to pay using their debit or credit cards. You can create custom buttons yourself to indicate how they can pay. You can let them know the payment types you accept, such as gift cards, checks, and others. Vend also gives you the flexibility to split transactions into different payment types. You can also give your shoppers special deals as you can allow layaway. You can set up a partial payment and deposit scheme easily with Vend.
Manage Inventory
You can add your diverse products to Vend's inventory management system. You can edit them through a single console and add notes on their materials, sizes, and even colors. You are also provided with tools to bundle your products and create gift baskets when you need to. Barcodes are also supported and you can import them from your system and create new ones and print them with Vend. In addition, you are afforded a central product catalog where you can place products easily and avoid messing up your list.
Customer Management Capabilities
With Vend, you can store your customer data in one platform. It gives you access to their transaction history, enables you to provide discounts, and import a customer list from other systems. You can also use a customer's profile in all your locations as Vend syncs all information.  You can also design loyalty programs and increase the rate of converting regular consumers into repeat and loyal customers.
Robust Reports
Vend provides you with reliable reports that you can also customize. This allows you to see your product, store, and staff performance. Your reports can also be based on supplier, brand, tags, product, and whatever you like. In this way, you can discover patterns and trends easier and use this information to make your future decisions. Now, you can view important metrics from anywhere.