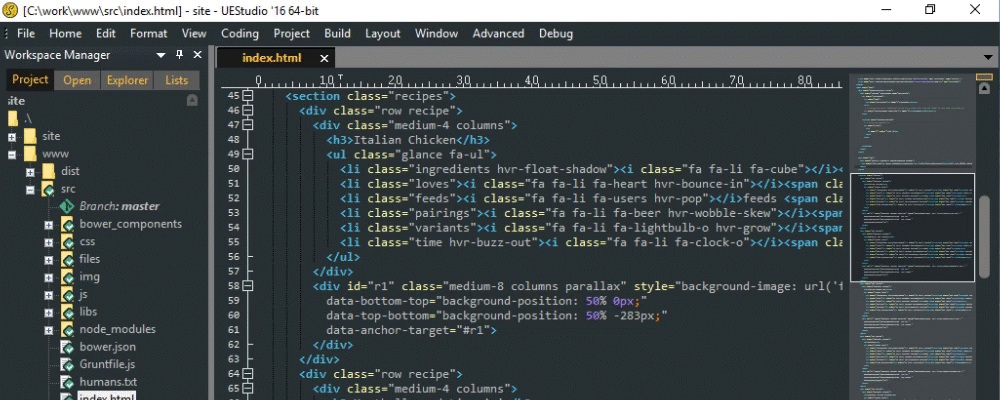 The main benefits of UltraEdit are its supporting tools for web development and programming, advanced text editing functionalities, and hex editing capability. Here are more details:
Coding tools
One of the most notable features that UltraEdit has is its web development and programming functionality. There is a function list that can be hidden or docked. This list enables users to view a source file oriented in a tree structure layout and divided into subgroups like properties, variables, and parameters. JSON Manager shows JSON objects and their value pairs while XML Manager displays parsed tree style layout of XML nodes and their data. Coders can also hover over a CSS color to get a preview of how it looks like, a handy feature for empowering users in executing their web designs tasks comfortably.
Text editing
UltraEdit is a text editor to the core, which is why it features ample of text editing functionalities such as multi-selection and multi-caret editing support. This allows users to edit in various locations at once by setting up multiple carets. Many, non-contagious lines can also be created all of which can be cut, copy, and pasted at the same time. File tab supports navigation by switching from an open file to another. This is a convenient feature for text editing since multiple selections can be accessed and users are able to easily work on multiple lines.
Hex editing
By activating hex mode, UltraEdit enables users to configure hex bytes directly, which is very helpful in making web layout. This feature is complete with the ever useful cut, copy, and paste capabilities that allow copying of text's hex view into the clipboard. In making a design, accuracy is very important because few miscalculations can severely impact a project's success. This is where hex editing comes in, it provides users with opportunities for enhancing the project by producing precise output.