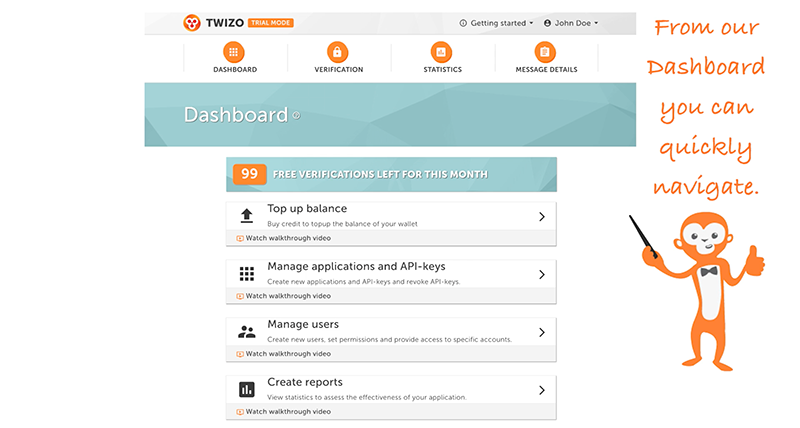 Twizo is a Security Authorization as a Service product that helps to secure your sensitive data using two-factor authentication with voice, SMS, and more. The application offers ready-to-use code and a strong portfolio of APIs to provide encrypted two-factor authentication and verification services.
Top features and benefits of Twizo include: test your integration for free, OTP content and customizable tokens, complete encryption, easy-to-use code, tokens via voice calls and SMS, detailed stats and reporting, RESTful API, and 100 free verifications per month.
Twizo uses full encryption to keep your confidential data secure and protected. Plus, the app helps developers with detailed documentation and extensive code libraries to simplify integration. Simply copy and paste the code to launch your service. The Twizo web portal offers helpful tools and you can also benefit from the intuitive interface and APIs.
Verification
Integrate Twizo's two-factor authentication in the following simple steps: Get the user's phone number, submit a verification to Twizo's API, the API will send a token to the number via a voice call or SMS, the user inputs the token they receive, finally you can verify the token with the app's API.
Messaging
To enable you to send SMS to your users, Twizo offers code samples, APIs, and more. The platform provides a simple user interface, high quality connectivity, and global reach to cover all your messaging needs. The Twizo messaging tool supports: easy-to-integrate REST API, simple API that enables you to contact multiple numbers through a single action, multiple Sender ID configurations and delivery reports, long/concatenated messages, and standard and unicode messages.
Number Lookup
Protect your company against fraud and scams by making sure you engage with good quality numbers. Problematic and fake mobile numbers can lead to fraud and run up your expenses.
Use the Number Lookup to learn if a number is: valid, still active, roaming, and ported. This will help you to know more about your users' mobile numbers and ensure a high level of security for your services. The Number Lookup facility is offered via the online platform and REST.