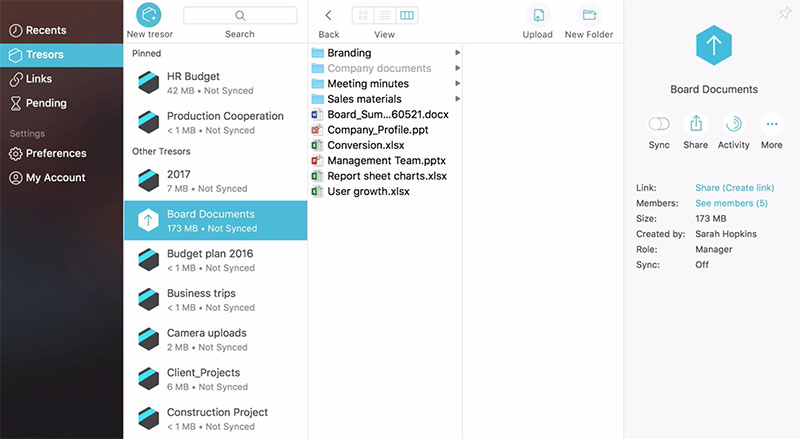 You can sync data with different team members and devices so that it can accessed from anywhere, as long as the user has permission. In addition, the Admin Center of Tresoritallows administrators to access and view user statistics and analytics in order to keep track of any unusual activity or breaches. The service's Public Key Infrastructure (PKI) zero-knowledge sharing authenticates each user which means that files, passwords, and encryption will never be stored.
You can define who can view, edit, share, delete, or print PDF documents and MS Office files with integrated DRM for file-level protection. Plus, you can grant and revoke user access easily and create user groups for different departments.
Replace email attachments with secure links and use Tresorit's Outlook integration which allows file sharing with a single secure link sent directly from Outlook. This link is password protected and has an expiration date.
You get assured data protection as Tresorit complies with Swiss privacy laws. The vendor uses secure and reliable Azure data centers in Europe, audited for ISO27001:2005, SSAE 16 and many other certifications.
Another advantage is you can duplicate Tresorit's end-to-end encryption feature when developing your own applications with the Zerokit SDK. Zerokit SDK, designed by Tresorit, helps app developers by offering the addition of zero-knowledge user authentication and end-to-end encryption without cryptography experience.
On top of that, you can add security to HR processes with Tresorit's encrypted and protected document management, payslip delivery, and staff folders. HR staff can also collaborate securely with hiring managers and candidates directly through the Outlook add-on. Plus they can protect evaluation results and contracts with password protection and expiry dates.