Tresorit Reviews: Pros, Cons, & Pricing of the Leading File Sharing Software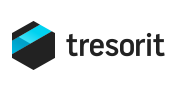 Price: $10.42
Our Score: 82%
What is Tresorit?

Tresorit is a secure, encrypted cloud storage service that empowers companies to store, sync, and share their business documents and files. It offers end-to-end encryption to facilitate the secure storage and transfer of vital documents and data, and protects them from internal breaches and hackers. You can send password-protected cloud links rather than file attachments when utilizing email to ensure that files are safe and inaccessible to unauthorized users. Client-side encryption ensures that all files are fully secured before they are sent and a Message Authentication Code (MAC) is applied to each file to make sure it cannot be changed without the owner's authorization.

Tresorit's organizational folders, named Tresors, can be utilized to store data in the cloud without the need to change current folder organizations. These Tresors can be shared with your team members or outside clients, with fully manageable access permissions and rights. You can grant or revoke these permissions with a simple button click. Read on below our Tresorit reviews to know more about its benefits, pricing and technical specs.
Main Features
Access control

Activity dashboard

Approval process control

Automatic backup

Cloud storage

Collaboration

Data encryption

Data protection

Data synchronization

Document delivery

Document management
Document storage

Email integration

File transfer

HIPAA compliance

Mobile workforce control

Outlook integration

Revision tracking

Secure data storage

Security & encryption

User access controls

Version control

Version management
List of Benefits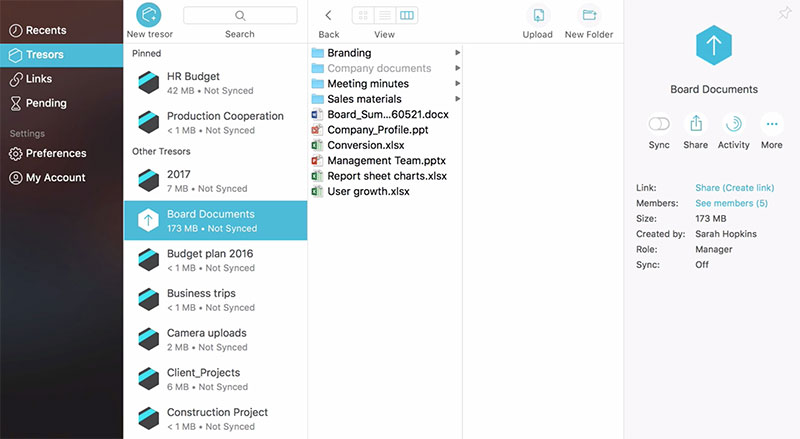 In our Tresorit reviews the software has been distinguished with our Great User Experience Award and Rising Star of 2017 Award: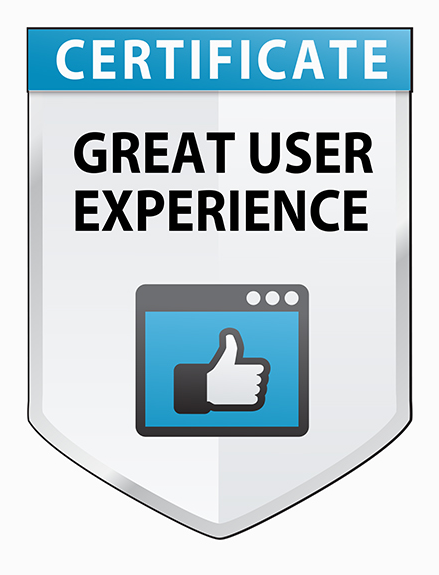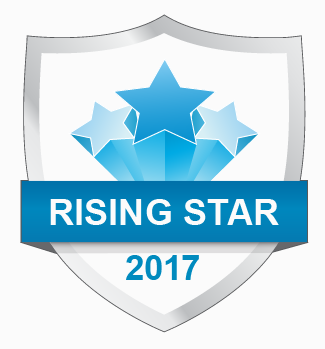 You can sync data with different team members and devices so that it can accessed from anywhere, as long as the user has permission. In addition, the Admin Center of Tresorit allows administrators to access and view user statistics and analytics in order to keep track of any unusual activity or breaches. The service's Public Key Infrastructure (PKI) zero-knowledge sharing authenticates each user which means that files, passwords, and encryption will never be stored.
You can define who can view, edit, share, delete, or print PDF documents and MS Office files with integrated DRM for file-level protection. Plus, you can grant and revoke user access easily and create user groups for different departments.
Replace email attachments with secure links and use Tresorit's Outlook integration which allows file sharing with a single secure link sent directly from Outlook. This link is password protected and has an expiration date.
You get assured data protection as Tresorit complies with Swiss privacy laws. The vendor uses secure and reliable Azure data centers in Europe, audited for ISO27001:2005, SSAE 16 and many other certifications.
Another advantage is you can duplicate Tresorit's end-to-end encryption feature when developing your own applications with the Zerokit SDK. Zerokit SDK, designed by Tresorit, helps app developers by offering the addition of zero-knowledge user authentication and end-to-end encryption without cryptography experience.
On top of that, you can add security to HR processes with Tresorit's encrypted and protected document management, payslip delivery, and staff folders. HR staff can also collaborate securely with hiring managers and candidates directly through the Outlook add-on. Plus they can protect evaluation results and contracts with password protection and expiry dates.
Technical Specifications
Devices Supported
Mac
Web-based
Windows
Android
iOS
Geographies Served
Pricing Model
Monthly payment

Annual subscription

Quote-based
Customer Types
Large Enterprises
Mid Size Business
Small Business
Deployment
Available Integrations
Video
Available Support
Software Pricing
Tresorit offers enterprise pricing packages for both individuals and teams:
For Individuals
Premium Plan – $10.42/month (billed annually) or $12.50 billed monthly
For personal users. Features include: 100 GB encrypted storage, secure access on up to 5 devices, version recovery up to 10 versions, 90-day activity history, and more.
Solo Plan – $24/month (billed annually) or $30 billed monthly
For professionals and freelancers. Features include: 1,000 GB encrypted storage, secure access on up to 10 devices, Unlimited version recovery, unlimited activity history, and more.
For Teams
Small Business Plan – $20/user/month (billed annually) or $25 billed monthly
Secure file sync & sharing for teams with 2-9 users
Business Plan – $12/user/month (billed annually) or $15 billed monthly
Secure file sync & sharing for businesses with 10+ users.
Enterprise Plan – Custom pricing
Secure cloud solution for enterprises with 100+ users.
All Teams plans include the following features: built-in end-to-end encryption, zero-knowledge authentication, 1,000 GB encrypted storage /user,  secure access on up to 10 devices /user, syncing of existing folder structure, unlimited version recovery, unlimited activity history, and more.