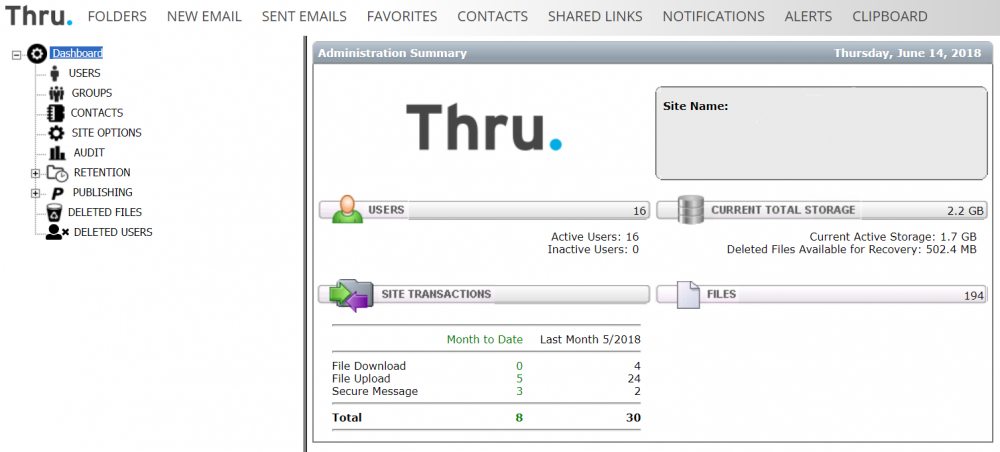 The main benefits of Thru are its non-existent file size restriction for sharing, its capability to effectively replace the FTP sharing method and its extensive collaboration between users and their teams. Here are more details:
Unlimited file sharing
Thru provides a file exchange service that isn't hampered with the size of files beings shared. Unlike most of the file-sharing platforms out there, Thru does not waste users' time as they wait for the process of file sharing to be completed. Users are able to share the biggest space eating file without affecting the system's performance. This ensures users that they are still able to perform their jobs properly even during a huge file transfer.
FTP alternate
FTP (File Transfer Protocol) server has been a very popular file sharing platform around the world. Its technology has, however, encountered difficulties in keeping up with the fast changes in sharing requirements, which have become a lot more demanding and complicated over the years. With that said, its services are important aspects of many businesses, which lead them to utilize alternate applications to replace FTP. Thru is an excellent choice for such. It meets all the requirements for ease of use, delivery, and security. It allows for file sync, sharing, and exchange without the need to worry about the integrity and safety of files as well as the speed of transfer.
Limitless collaboration
Thru empowers collaboration between teams on files without any size limits in a highly safe and protected environment. It features security standards that meet with strict regulations similar to the ones used by finance and government industries. The entire application is secured with multiple features such as anti-virus scanning and AES 256-bit encryption.