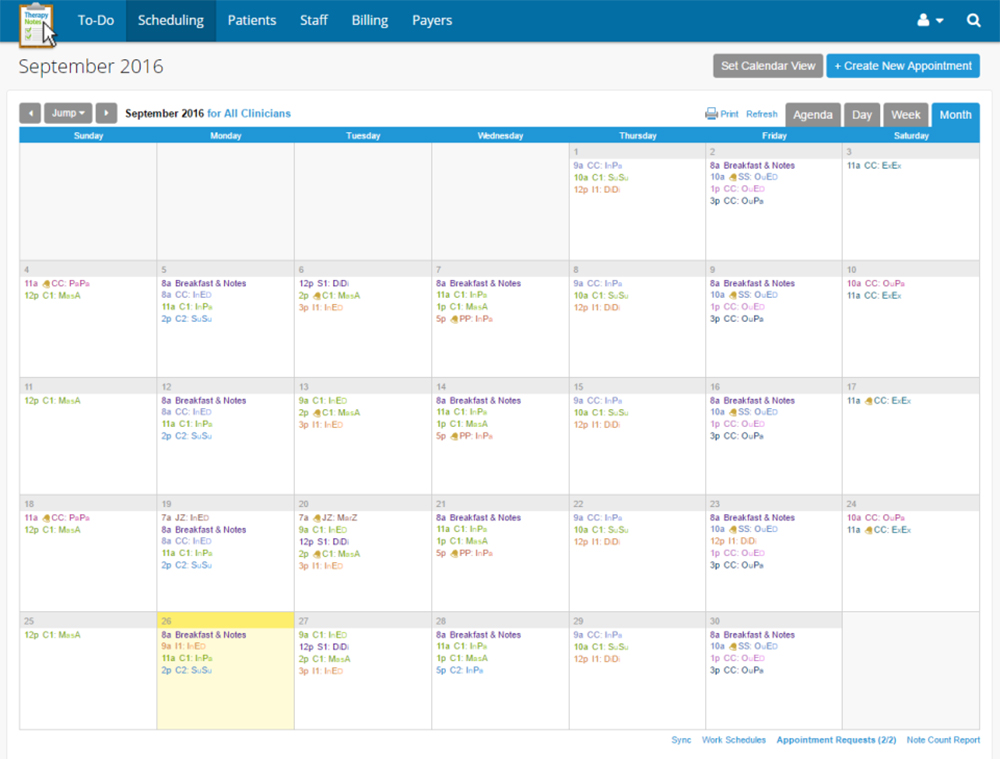 The main benefits of TherapyNotes are its robust scheduling and to-do lists, comprehensive patient notes, reliable electronic medical records, fast note-taking, intuitive data recover and document printing, and convenient electronic billing. Here are the benefits behavioral health practitioners can get from its multiple features:
Robust Scheduling and To-do Lists
Schedule and patient management are important to professionals and practitioners in the field of mental health since it is integral to the care and treatment they provide. Users of TherapyNotes will definitely have their schedules under control with the scheduling and to-do list functions provided by the system.
With the function, users can mark their calendars and be on top of their appointments. There won't be any missed patient sessions as users can configure reminders especially for this. TherapyNotes is also great for patients, as they get an online portal that lets them request appointments without having to go to a clinic.
Comprehensive Patient Notes
Whether for therapy, counseling, social work, psychiatry or psychology, professionals will be able to complete their notes with ease, thanks to the form-based notes of TherapyNote.
Electronic Medical Records
Paperwork can be a thing of the past once users switch to TherapyNotes. The system can take in patient records and files, whether they are insurance cards or HIPAA agreements. The software can also handle scanned documents and Word and Excel files. Users can also expect privacy as electronic medical records are encrypted and backed up by TherapyNotes.
Fast Note-taking and Specialty Notes
TherapyNotes saves users' time with pull-down menus, searchable ICD-10 diagnosis codes, and checkboxes. Another time-saving feature is how the system uses previous notes and appointment data to fill out appropriate note fields. Dictation solutions from iPads and the Mac OS X, as well as from tools like Dragon NaturalSpeaking, are also supported.
Data Recovery and Document Printing
Data recovery from past notes is easy with TherapyNotes' Quick History Review feature. With a simple click, users can reference data from past notes and pull data from a previous note into a current one. Notes can also be downloaded in PDF format and printed. Users' practice logo even automatically appears on these printed notes.
Electronic Billing/Data Security
Billing can be quick and easy with Therapy Notes' electronic billing features. With this feature, credit card processing, assisted and ERA payment posting, and electronic insurance claims can be easily done. All of this information is also encrypted, backed up, and secure, as per HIPAA and PCI rules.