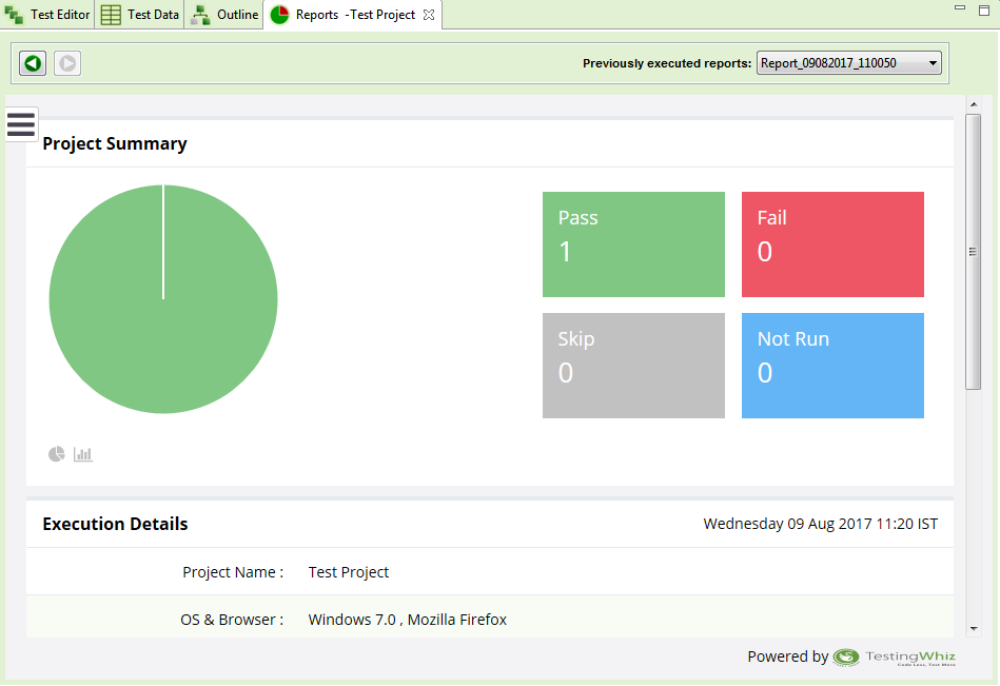 The main benefits of TestingWhiz are its FAST engine, its multiple commands, user-friendly automation tools,  and flexibility. Here are the details:
Test engineers, individual testers, or tiny to large automation teams will find TestingWhiz a user-friendly automation tool. Recording techniques that are both intelligent and reusable are made available to them thanks to TestingWhiz and its FAST engine. Some of these techniques include object-based inputs, Java scripting, keyword-driven testing, data-driven testing, and MS Excel Programming, which are used in the production and execution of automated test cases. Because the engine can implement a number of file formats that include DOS, .exe file, and .bat file, automation projects are executed with speed, ease, and flexibility.
TestingWhiz users can easily create robust modular automation scripts, thanks to readily available commands that number in the hundreds. Even with a lack of coding skills, users will be able to use these test commands to have more efficient automation projects and testing workloads that are optimized. Whether the tester is using Android mobile browsers, Edge, IE, Safari, Chrome, or Firefox, they will be able to use the platform as it allows testing across browsers. The BrowserStack and Sauce Labs profiles supported by TestingWhiz also make cross-browser testing on the cloud easy to do.
TestingWhiz also has a built-in module called Object Eye record and Playback. This feature allows for the recording and archiving of web controls, as well as the editing of stored objects thanks to smart editing features. These can then be used to come up with modular scenarios of high quality. The software can also generate dynamic test data that can then build reusable testing logic in scripts for automation. Because of this, automation script maintenance is reduced and test coverage improved.
When it comes to continuous server integration, TestingWhiz also supports it. CI plugins like Jenkins or Bamboo allow for the implementation of test scripts, which is great when it comes to validating application on the regressions cycles since it helps to simplify it. TestingWhiz's reporting features are also powerful and can give users precise data regarding test cases, along with a comprehensive view of how the automation script was executed.